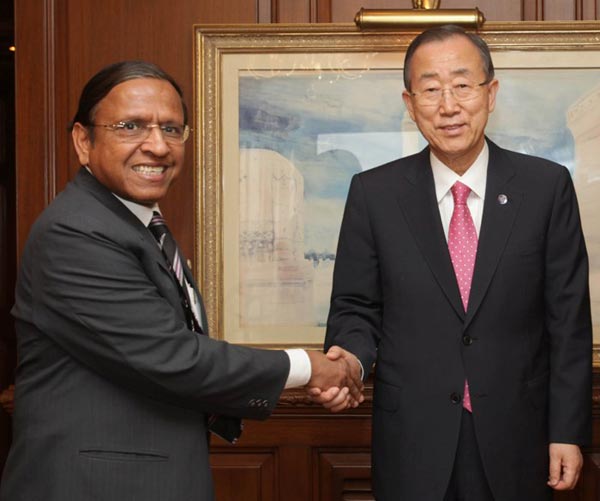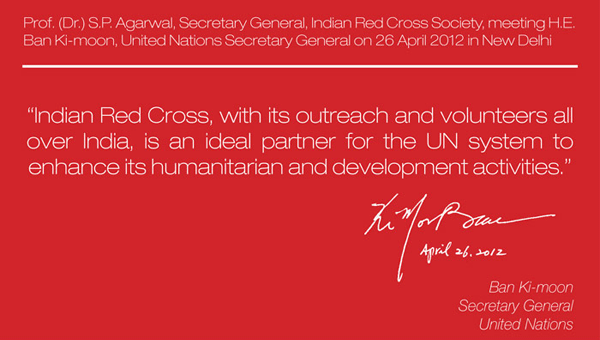 As part of his three day official visit to India, UN Secretary General Mr Ban Ki-moon held a meeting with Mr Azmat Ulla, Head of the IFRC's South Asia regional delegation, who was accompanied by Prof. (Dr.) S.P. Agarwal, Secretary General of the Indian Red Cross Society. The meeting offered the opportunity to discuss issues including climate change related disasters, community-based health, in particular women's and children's health, the role of young people as agents of change today and as humanitarian leaders of tomorrow, as well as how the Red Cross and UN agencies can be more effective in working together.

Mr Ban who himself was Red Cross youth volunteer appreciated the efforts of the Red Cross in providing community based humanitarian services in this region.
Mr Ban commended the crucial role played by the Red Cross in promoting humanitarian principles, observing that, "Indian Red Cross, with its outreach and volunteers all over India, is an ideal partner for the UN system to enhance its humanitarian and developmental activities."
This region, comprising of nearly quarter of the world's population has high vulnerability, especially to disasters. National Red Cross and Red Crescent Societies should work together with partners such as the agencies of the UN toward realizing the Millennium Development Goals," shared Mr. Ulla following the meeting.
Prof. (Dr.) S.P Agarwal Secretary General of the Indian Red Cross said, "I am happy to learn that the UN recognizes our long and well established role in humanitarian and developmental areas in close cooperation and with the support of the government of India."
For more information, or to set up interviews, please contact:
Further details are also available on UN News Centre.