Taking a step forward – Youth as agents of behavioral change
16.03.2012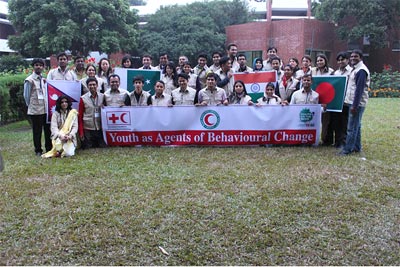 Blurring of the Borders- United Colours
When people were still asleep in the cosy comforts of their homes; were enjoying a hot cup of coffee or busy scanning the newspapers, smartly dressed Red Cross & Red Crescent youth huddled together in the cold winter mornings. They were attentive and actively practicing "Qi Gong " in perfect sync and harmony. It is a form of Yoga that helps to find "inner peace".
Miss Suranjana Das, Punamdhita Bora and Ritu Satmukhi , all Programme Coordinators of Indian Red Cross Society participated and represented Indian Red Cross Society at the Youth as Agents of Behavioral Change Training held in Manikganj,Bangladesh. The training was hosted by Bangladesh Red Crescent Society from December 12th – 18th 2011.
India was joined by representatives from Bangladesh, Pakistan, Nepal and Malaysia. In all 28 participants came together at the South Asia Regional Training.

IFRC's Flagship initiative YABC (Youth as Agents of Behavioral Change), is meant to promote the culture of non-violence and peace among the Youth . It aims to empower the youth with leadership skills required to inspire positive change in mindset, attitude and behaviour amongst themselves and in the community thus paving the way for a congenial climate of peace.

Participant- centric experiential training was the approach used in this programme. "The whole day was filled with activities, Individual group exercises as well as role plays combined with small group discussions about several topics led to the understanding of each others views without being biased. Exposure to different cultures was an integral component of this training", says Suranjana Das, the IRCS participant.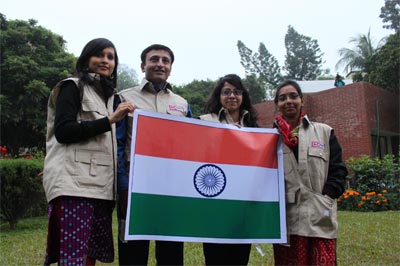 Punamdhita Bora, shared her experience, "Not for a moment did we feel stressed. We thoroughly enjoyed the whole process. It also introduced us to new cultures, to respect diversity and manage personal judgments and perceptions."
Youth Department.