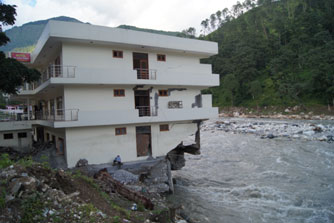 Uttarakhand cloudburst 2012

Empowering Communities.

Images of damaged and dangerously tilted houses balancing themselves over the flowing stream and on the edge of the hills drew our attention during the rainy season of 2012. Incessant rainfall combined with cloudbursts during 12/13 14 & 16th September 2012 left a trail of destruction in 6 villages of Ukhimath distt.. Over 50 dead bodies were recovered and 21 people trapped under the debris were rescued. In Kumori village of Jakholi Tehsil in Rudraprayag district a house collapsed killing all five people inside.
Local Red Cross branches initiated relief work with the Red Cross volunteers which included certified first medical responders trained by the branch.. Other district branches as well as the State branch provided additional support to accelerate the relief work and provide aid to the affected. As an immediate response , IRCS ( NHQ) released 200 family packs 300 stoves and 50 family tents for distribution among the affected people.
| | |
| --- | --- |
| | |
| NDWRT Team at work | Training being provided to local volunteers |
In addition NOMAD water sanitation unit along with the NDWRT team were stationed. At Uttarkashi : Despite challenges due to heavy rains and high turbidity of the water the NOMAD water purification unit provided 63000 litres of safe drinking water to 10,498 beneficiaries providing 2 buckets of (30 litres each ) of water per family for drinking and cooking purposes.
The three member NDWRT team also trained the First Medical Responders to operate the unit Those trained further trained the local community members. Suresh Gami, one of the NDWRT personnel deployed said, " Our intention was to empower local people to be self sufficient at that time."

Refer:
NDWRT- National Disaster Watson Response Team
Reference Reports . Annexures attached.