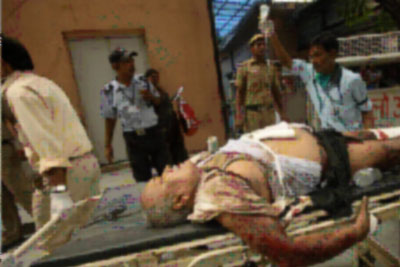 An injured man is brought to the RML hospital
A powerful bomb blast at gate no 5 of the Delhi High Court killed 10 people. The number of injured was 75 as there were queues of people at the reception counter of the court for obtaining passes for entry in to the court premises. The blast shook the earth and created fear and panic.
The injured were taken to three hospitals. There was requirement of blood of different groups. The IRCS blood bank supplied 46 units of blood to the RML hospital. The blood bank is operational round the clock and is geared to meet any further demand of blood.