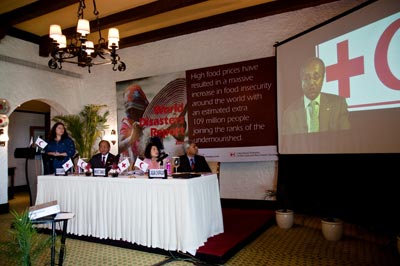 On 22 September 2011, the Indian Red Cross Society (IRCS) co-hosted the global launch of the International Federation of Red Cross and Red Crescent Society's (IFRC) flagship publication, the World Disasters Report in New Delhii. Published annually since 1993, this year's report focused on hunger and malnutrition, examining there are serious challenges for both governments and humanitarian agencies such as the Red Cross, as well as analysing the solutions.

Although the world produces enough food to feed everyone, in 2011 almost one billion children, men and women around the world go to bed hungry. Although most live in rural areas, a growing number of the world's hungry also live in urban areas, while people in high-income countries do not escape hunger. Beyond disasters, the Red Cross has an important role to play in community development, and ensuring community food security is development.

IRCS Secretary General, Dr. S.P. Agarwal joined IFRC director for Asia Pacific Mr. Jagan Chapagain, together with Mihoko Tamamura, head of WFP India, presented the report to the media at a global press launch in the morning, attended by correspondents from Indian and international media agencies, as well as being broadcast live online to the world.
A panel discussion, moderated by award winning journalist Ms. Veronica Pedrosa, brought together thought leaders in the field of hunger and malnutrition, including M.S. Swaminathan, Member of Parliment (Rayja Sabha) and chair of the Swaminathan Research Foundation; Ms. Meenakshi Datta Ghosh, former principle advisor to India's health, nutrition and family welfare planning commission, and joint secretary for policy of India's ministry of health and family welfare; as well as Ms. Tamamura and Mr. Chapagain. The event was attended by ambassadors from across the world, as well as senior representatives of international aid organizations based in New Delhii.

In his keynote address opening the evening's debate, Dr. Agarwal highlighted the challenges of alleviating from both an Indian and global perspective. On the role of the Red Cross in ending hunger, he had this to say; "My mission is that of the Red Cross, to help the most vulnerable people, wherever they may be. Ending hunger is not a small goal to have, but it is a worthwhile one. And by working together, it is also achievable."

The debate also featured videos illustrating the lives of those who live in hunger on a daily basis, as well as an 11 minute video from Andhra Pradesh, showing how one group of determined women have managed to banish hunger from the homes of their village. Despite the challenges, solutions to end hunger exist, but will require a concerted effort by all to achieve them.

For more details on the World Disasters Report, visit www.ifrc.org/wdr.