IRCS, Blood Bank Initiation in Taking Care off the Thalassaemic Patients
Lord Buddha had once said "Every human being is the author of his own state of health". We, human beings acquire ailments and diseases due to our habits and contacts. But some of us are born with one and that lives with us till the end.
Existing books on diseases have countless pages as there are countless diseases. One such page is on a disorder called 'Thalassaemia'. The name is derived from a Greek word meaning Sea. Thalassaemia originated over 50,000 years ago but got its clinical recognition in 1925. In simple words it can be described as an inherited disorder in which there is an abnormality in one or more of the globin genes.
Statistics reveal that in India thalassaemia major affects over 1, 00,000 people and over 8,000 reported thalassaemia births take place every year. There are, however, many more unreported cases as well.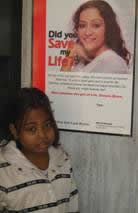 Anjali Kataria, a thalassaemic patient
The disorder triggers when haemoglobin, the oxygen-carrying component of the red blood cells stops producing either of the two proteins, an alpha or a beta. The red blood cells do not form properly and cannot carry sufficient oxygen resulting in anaemia that begins in early childhood and lasts rest of the life.
Thalassaemia is not a single disorder but a group of related disorders that affect the human body in similar ways. There are its various types like Alpha thalassaemia which happens when haemoglobin does not produce enough alpha protein. It can be further categorised into Silent Carrier State, Alpha Thalassemia Trait or Mild Alpha Thalassemia, Haemoglobin H Disease, Hydrops Fetalis or Alpha Thalassemia Major. Beta Thalassaemia happens when haemoglobin does not produce enough beta protein and it can be further categorised into Thalassaemia major, minor and intermedia.
The most common treatment for all major forms of thalassaemia is red blood cell transfusions. These transfusions are necessary to provide the patient with a temporary supply of healthy red blood cells with normal haemoglobin capable of carrying the oxygen that the patient's body needs. Today, most patients with a major form of thalassaemia receive red blood cell transfusions every two to three weeks. Chelation therapy is another common treatment as by this excessive iron is removed from the body as the patient undergoes the difficult and painful infusion of a drug named Desferal. However, bone marrow transplantation or gene therapy may totally cure a case of thalassaemia major. But for all practical purposes transfusion of red cell concentrate in the only way to sustain the life of a thalassaemia patient at present.
As red blood cell transfusion is the most common treatment, the Blood Bank of the Indian Red Cross Society plays a pivotal role in this. It provides free of charge red cells to 885 thalasaemmic patients out of total registered 2000 patients in Delhi.
Efforts are made by Red Cross Blood Bank to increase the number of voluntary donors to cope up with the demand of blood especially for registered thalassaemia patients. The requirement of the registered 885 patients is 18000 – 20000 units in a year. As a responsible blood banker it is helping in educating people about thalassaemia. Secondly, it is holding screening camps along with the blood donation camps, especially in schools, colleges where the young crowd can be screened for thalasaemia.
Red Cross is looking after cases within Delhi as well as outside Delhi which come as far as from Kanpur, Gwalior, Saharanpur, Faridabad and Sonepat.
Anjali Kataria, a thalassaemic, is a 13 years old daughter of Mr. Chetan Kataria and has been coming from Gwalior to IRCS Blood Bank from the past 12 years. They come to Delhi after every 20 days for two units of Red blood cells which they get transfused at Sri Gangaram Hospital. Mr. Chetan Kataria said that "Though coming to Delhi with my daughter is a tedious task but the kind of assistance we get from the staff of IRCS blood bank is overwhelming. The Red Cross blood bank staff have been very helpful and compassionate, hence we come here only for blood".