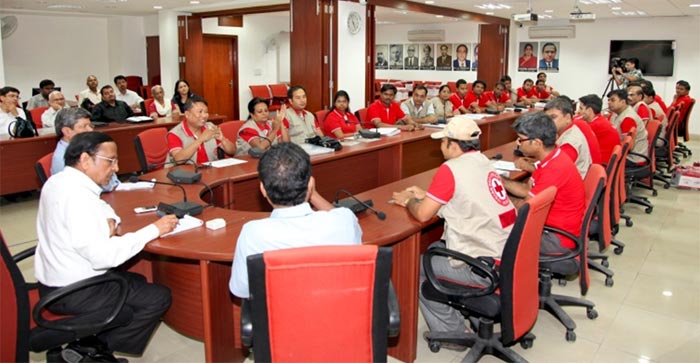 "Immediate care is very important, whether for disasters, road accidents or any other emergencies. So long as you can stop bleeding, give First Aid, you have done a good job," said Dr Agarwal while addressing the master FMR trainers at the end of the week long training session being held at the Disaster Management Centre of the Indian Red Cross Society, National Headquarter.
| | |
| --- | --- |
| The training had participation from Red Cross branches of 15 disaster prone states. The Indian Red Cross Society under its FMR programme, trains First Medical Responders in the communities all across the country as a disaster preparedness measure against natural calamities, disasters and emergencies. | |
| | A session on emergency water supply during the training |
The FMR pilot project was launched by the IRCS state branch in Uttarakhand in 2011and has since been implemented by the NHQ through its branches in 18 most disaster prone states of the country. An FMR is a person who is certified to provide first aid in emergencies to the community before external help arrives. At present IRCS has more than 5000 trained First Medical Responders, instructors and Master trainers in the country.
| | |
| --- | --- |
| | The master trainers were trained under many modules which included First Aid, Public Health In emergencies, Disaster Management, Psychosocial Support, Head & Spinal injuries, emergency water supply, sanitation, Food security and nutrition, dead body management and many more. A module on care of persons with disability during disasters has also been included. |
| Training master trainers for giving First Aid during disasters | |
The faculty consisted of experts from International Federation of Red Cross and Red Crescent societies, International Committee of Red Cross, the Indian Red Cross Society and St John Brigade.
| | |
| --- | --- |
| At the end of the training, a valedictory function was held in which all the master trainers were given certificates on the successful completion of the training. Speaking at the occasion, Dr S P Agarwal, Secretary General, Indian Red Cross Society captured the essence of the training and motivated the master trainers by saying, "Good work is infectious and everyone should make an effort to initiate and spread it." | |
| | Dr S P Agarwal giving a lecture on Head & Spinal injuries during the training |
He told the master FMR trainers that the onus was on them to add to the volunteers, blood donors and the FMR force of the organization. Dr Agarwal added that the organization is modernizing its approach and systems by increasing the use of IT and will soon try to hold volunteer and FMR refresher trainings through web linking and video conferencing. He also urged the trainers to develop linkages with the State Disaster Management Authorities so that help during disasters can be better coordinated.
The valedictory function is the opportune moment when the trainees hailing from various districts of the country can interact with the officials of the organization and make suggestions for improvement of curriculum as well as disaster related services.