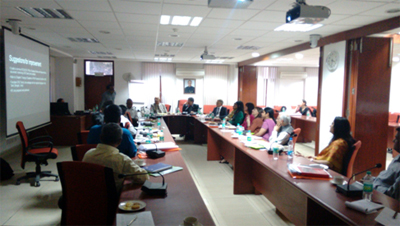 A one day workshop to evaluate the existing Family News Services (FNS)/Restoring Family Links (RFL) programme activity in the country was convened at National Headquarters on 2 November 2015. Welcoming the participants, Dr Veer Bhushan, Joint Secretary, IRCS, NHQ said, "This activity occupies great significance in our present frame work of First Medical Responders (FMR) programme." He emphasized that FNS is an integral module of the course curriculum by which the FMR inductees are trained. He added that in disasters and emergencies the transmission of family messages and tracing of lost family members are an immediate need of those affected and their kith & kin.

The programme was attended by the representatives of the Gujarat, Tamil Nadu & West Bengal state branches and officers & programme coordinaters of ICRC & IRCS. The evaluation teams of the ICRC and IRCS visited the programme states and held intensive consultations with the local branch officials. The draft recommendations of the evaluators have been discussed in the workshop. Based on the inputs of participants, final recommendations shall be made.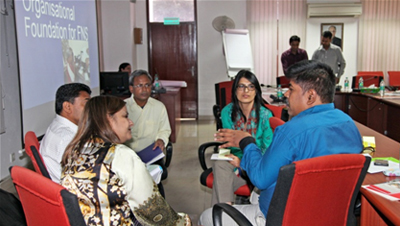 There was a general feeling to scale up the programme in the country. It was also felt that its sustainability and success shall be a reality if it is formally linked to the FMR programme that has delivered results. It was also mentioned that the governments of the states that faced disasters, such as Uttarakhand and Jammu & Kashmir, have appreciated the role of the Red Cross FMR volunteers and their intervention. In the concluding remarks the Joint Secretary also emphasized that the RFL services are handy and effective during big and large congregations, such as religious fairs, where, in some of them, several million people assemble over a period of time. In such large gatherings children & elderly frequently lose contact with their family members. The Red Cross & St John volunteers have been delivering the RFL services but there was scope to support this activity and modernize this service which will also bring visibility to the Red Cross, he added.