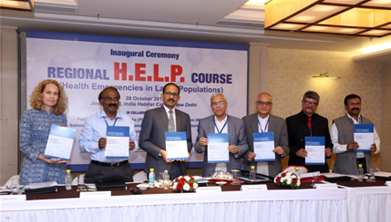 "Indian Red Cross Society's First Medical Responders Programme is envisaged to empower volunteers from within the community to provide disaster relief, first-aid, family reunification and other complementary support in times of any emergency", remarked Dr Veer Bhushan, Joint Secretary of the Indian Red Cross Society. Speaking on the occasion of the inaugural function of the Regional H.E.L.P. (Health Emergencies in Large Populations) in New Delhi on 28 September, Dr Bhushan provided succinct details of some of the interventions in the health sector by the Indian Red Cross such as tuberculosis, swine flu, malaria etc. He elaborated the successful efforts of the Red Cross volunteers who continuously followed up the TB patients to ensure that the full course of treatment for them is completed.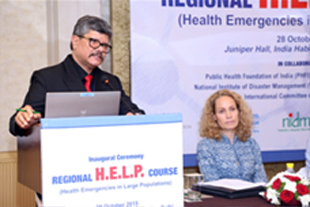 Mr Kamal Kishore, Member, National Disaster Management Authority, Government of India, in his address said that relevant statistics on disaster intervention should be compiled by the implementing agencies. He also said that documentation of epidemiology of catastrophes' in the country will help improve the response mechanism in such disasters.
Dr Paul Bouvier of the ICRC, while introducing the course said, "The H.E.L.P. course was introduced by the International Committee of Red Cross (ICRC) in Geneva in 1990's. It has so far been organized in 13 countries. The course in Delhi is the result of over a year's consultation and planning by the co hosts." He informed that the rigorous and sought after two week long H.E.L.P. course is taking place in India for the first time.
The hosts for the course are Public Health Foundation of India, World Health Organization, International Committee of Red Cross and the Indian Red Cross Society.
Along with the senior officials of the co-hosts, Director of AIIMS, Prof M C Misra; officials of the National Disaster Management Authority and other organizations in the field of emergency medical response also participated and shared their thoughts.