JAMMU, Nov 30: A fire broke out at about 12.30 am on 26-11-2016 in a slum area of Narwal 'Basti' of Burmese refugees who were living in hutments made of wood and plastic sheets in an open private plot at Kiryani Talab area of Narwal, at the outskirts of Jammu. Around 80 huts were gutted in the blaze and it also resulted in the loss of 3 precious human lives.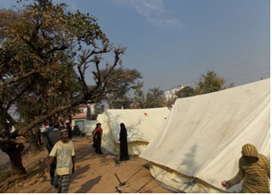 A team of Red Cross volunteers and officials set up a tent colony in the local area as well as distributed relief material among the victims of the tragedy. Temporary shelters in the form of 20 tents with canvas ground sheets and also tarpaulin shelters along with two blankets, clothes and kitchen sets have been provided per family. Further, 5 kg rice and canned juices per family have also been made available.
Shri Avinash Rai Khanna, Vice Chairman, IRCS, National Headquarters visited Narwal, in Jammu division of Jammu & Kashmir to take stock of relief measures. He was accompanied by the Secretary of the Jammu Regional branch, Speaker of the Legislative Assembly, Shri Kavinder Gupta and Additional Deputy Commissioner Jammu, Arun Manhas.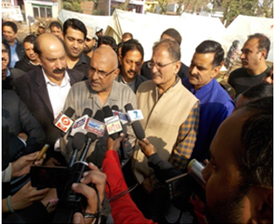 Shri Khanna mentioned that the first priority for us was to provide them with shelter for which the regional Red Cross branch had made a request. Subsequently, the Red Cross along with the district administration and other philanthropes arranged for food. He said, "The Red Cross Society in tandem with district administration has consistently been working to provide immediate relief to the victims of disasters in the region."
The Speaker asked the District Administration and Red Cross Society to jointly organize a medical camp for the people living in the encampment to minimize the possibility of any outbreak of disease in the area.