A two day training session for Emergency Preparedness and Response focal persons was held on 22nd and 23rd December, 2014 at the multipurpose facility of the IRCS NHQ. It was attended by participants from 8 states.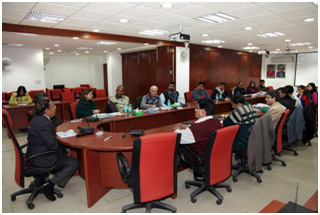 Speaking at the valedictory session Dr S P Agarwal, Secretary General, Indian Red Cross Society said, "When our volunteer is on the field, he is treated as a Red Crosser, there is no differentiation as to which programme he works for." There is a strong need to develop linkages between different programmes, he added.

Emergency Preparedness and Response is one of the cooperation exercises between The Indian Red Cross Society and the International Committee of the Red Cross. The First Medical Responders training and Youth Red Cross are its main components and there are nine state branches that come under the purview of EPR.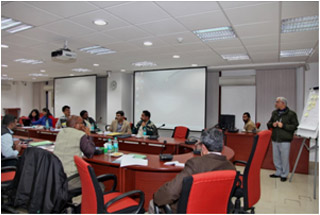 The main aim of the EPR meet was to refresh the participant's knowledge of Programme monitoring, evaluation and reporting as well as to share lessons from the implementation of the Plan of action for the year 2014 and to discuss challenges that came up during the implementation of the activities. All the participants expressed their satisfaction with the session and said that it was an opportunity to learn various reporting formats as also efficient planning of activities that can be translated into action.

The Secretary General said he was happy to see that two female participants were attending the training and hoped that in future there will be more female participation in disaster response activities and trainings. He said that increasing number of people should be motivated to be torch bearers of Red Cross in times of crisis so as to leave a healthy impact on the society.