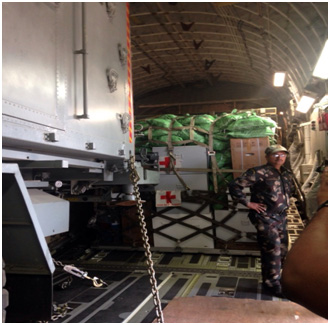 As the toll of those having lost their lives in the Nepal Earthquake reaches to more than 6000 with millions affected severely, the Indian Red Cross Society has been keeping a close watch on the scenario as it has been unfolding. According to reports, half a million tents are urgently needed for the huge number of people forced out of their homes due to the devastation apart from other help for the victims. In keeping with the seriousness of the situation, emergency meetings are continuously being held and situation being reviewed by the Secretary General. On the request of the Government of India, it has been decided to send in 2000 Tarpaulin sheets, 800 Family Tents, 2000 blankets and one more large water purification unit with output of 3000 litres of clean drinking water per hour.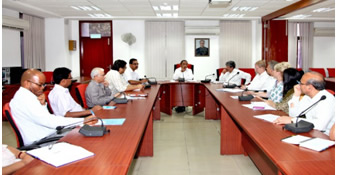 A meeting was earlier held by the Secretary General at the IRCS National Headquarters on 27th April, 2015 with Red Cross Movement partners to discuss the readiness of relief materials and volunteers for rescue and distribution. An emergency control room has been set up is continuously monitoring the situation and mobilizing help as more needs of the affected population are assessed.
Dr Agarwal, while taking stock of the emergency situation, had informed the partners that he has been attending high level Government meeting to review the emergency. The IRCS had earlier been requested to assist the Government of India by providing a large water purification machine, Body Bags and stretchers.
Accordingly, the following items had already been sent:
| | | |
| --- | --- | --- |
| Item | No. | Cost (INR) |
| Large WPU- Capacity 4000 lt/Hr | 1 | 11,00,000 |
| Body Bags | 500 | 4,00,000 |
| Stretchers (Scoop) | 40 | 4,00,000 |
| Stretchers (Pipe/Canvas) | 60 | 60,000 |
| Total | | 19,60,000 |
The following items are being airlifted as the next batch of relief:
| | | |
| --- | --- | --- |
| Item | No. | Cost (INR) |
| Large WPU- Capacity 4000 lt/Hr | 1 | 11,00,000 |
| Family Tents | 800 | 2,00,00,000 |
| Tarpaulin Sheets | 2000 | 17,40,000 |
| Woolen Blankets | 2000 | 4,20,000 |
| Total | | 2 ,32,60,000 |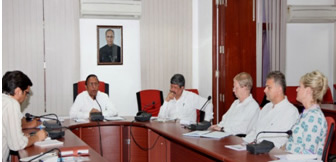 The issue of donations had also been discussed in the meeting. It has been agreed that that the society is willing to accept donations in kind in the form of Water Purification units (WPUs), Tarpaulin sheets, Blankets, Kitchen Sets, Bed Sheets, Mosquito Nets, Stretchers etc. Cash donations will be utilized to replenish the stocks that have already been despatched and/or procurement of new stocks for relief.

The Secretary General said that this disaster reinforces his belief that "Disasters know no boundaries". While Nepal has borne the brunt of the disaster, the Earthquakes' tremors have caused devastation in the adjoining Indian states of Bihar, Uttar Pradesh and West Bengal also. Almost 62 lives have been lost and thousands are affected. Assistance is also being sent to victims in these states.

The society has also offered up to 1500 units of blood to the Nepal Red Cross Society which can be sent in immediately in ice-containers. The Secretary General had said in that earlier meeting that the IRCS Blood Bank has around 50,000 volunteers who are ready for voluntary blood donations.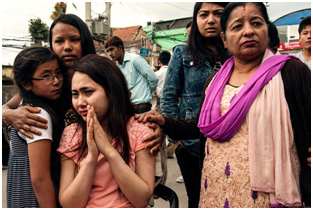 Photo Courtesy: Carl Whetham, IFRC
The Indian Red Cross Society is also ready with trained staff and volunteers for Rescue, First Aid, Relief distribution, Psycho-social support, Restoring Family Links etc. who may be deployed as part of National Disaster Response Team and First Medical Responders when required. The IFRC, ICRC and other partners have also pledged their support to the IRCS efforts in the form of providing trained manpower and materials.