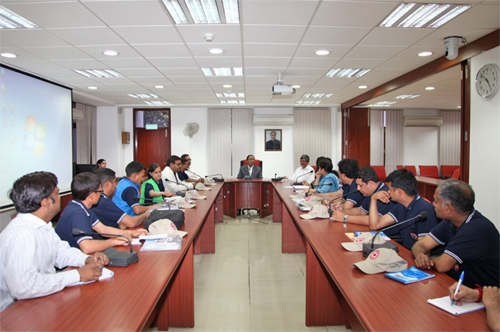 As the 4 day refresher training of the National Disaster Response Team (NDRT) came to a close on Thursday, 19th March, 2015, Dr S P Agarwal, the Secretary General of Indian Red Cross Society stressed on greater networking between various emergency response groups of the society.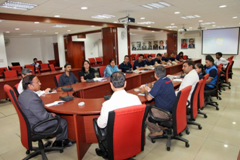 Addressing the participants of the NDRT training at the valedictory function, held at the multi-purpose conference facility of the IRCS National headquarters, he said that one of the ways of enhancing effective response mechanism to disasters is by building cohesion between various groups like NDRT, National Disaster WatSan Response Team (NDWRT) and the FMRs (First Medical Responders).
The 4 day refresher training and induction was held at the Bahadurgarh warehouse and Training Centre of the IRCS National Headquarters.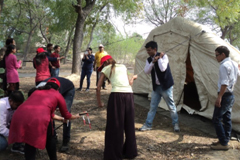 Few of the participants were experienced NDRT members who were here to refresh their learnt skills and others were new participants who were receiving training for this team. 5 members of Vodafone India (which has supported IRCS relief operations in Uttarakhand and Odisha in 2013), also attended a part of the workshop for orientation to the Red Cross.

The National Disaster Response Team (NDRT) is a cross sector disaster response team which was piloted in December, 2003 to strengthen the Disaster Response system of the Indian Red Cross Society. Its members include employees as well as volunteers who are trained at different aspects of disaster response, like Assessment, Rescue, First Aid, Shelter, Relief, Health, Water and Sanitation, Reporting, Finance and Logistics.


The NDRT members are on standby, to be deployed at once in any emergency. The First NDRT team was deployed during Bihar Floods in 2004. They were also deployed in Tamil Nadu post the Tsunami in 2004-2005. NDRT members have been an integral part of the IRCS disaster response in every disaster since then. Refresher trainings for the experienced NDRT members and induction for new members are conducted by the IRCS National Headquarters every year.

While meeting the participants, Secretary General said that the idea is to have a peer interaction during the trainings so that the new entrants can draw from the experiences of the experienced NDRT members. He said that the focus should remain on providing clean drinking water through state of the art Water purification units, on providing psychological support to bereaved people and on the restoring Family links (FNS) during and after disaster. He also stressed the need to have more women as NDRT members since they are best able to support women and children, the most affected groups, following disasters.