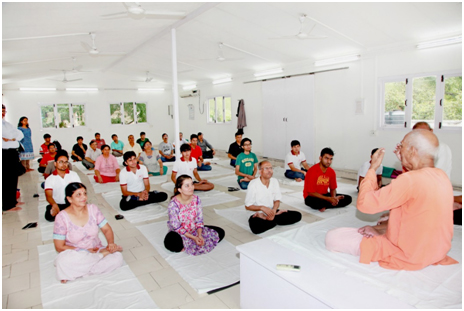 As the world celebrated the first International Day of Yoga on 21st June 2015, the Indian Red Cross Society had in its National Headquarters, Swami Anant Bharti, a world famous Yogic exponent as the motivator for volunteers and participants of the IRCS' Certificate course on Health Promotion through Ayurveda and Yoga. Swami Anant Bharti is the Director of Swami Keshwanand Yoga Institute, New Delhi and has authored more than 90 books in Sanskrit, Hindi and English language on Yoga and Vedic philosophy. He has also mentored many PhD students of Yoga. He has given lectures on Yoga in numerous institutes around the world and has a large following.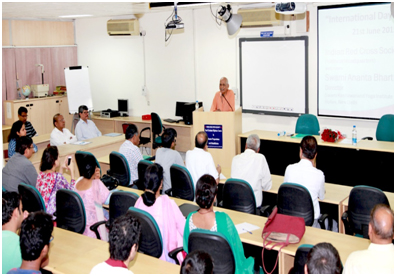 Dr S P Agarwal, Secretary General, IRCS who is also the Director of the Certificate course on Health Promotion through Ayurveda and Yoga welcomed Swamiji. While addressing the gathering, Dr Agarwal said, "IRCS routinely assesses the participants before and after the course and the results have indeed been very heartening."

Dr Agarwal elaborated that the impact of Yoga is huge in enhancing the immunity of our body. The results felt after practising Yoga are being analysed in a scientific manner and the benefits are being analyzed.

While addressing the gathering, Swami Anant Bharti explained, "Yoga is a way of life, an art of living. Water should be our teacher. The nature of water is to move. Similarly human beings should learn that stagnant water gets dirty and therefore movement is the key. Obstacles lead us forward but we should not be obstacles in each other's path. We should constantly endeavour for good deeds. Discipline acts as the support for a healthy living."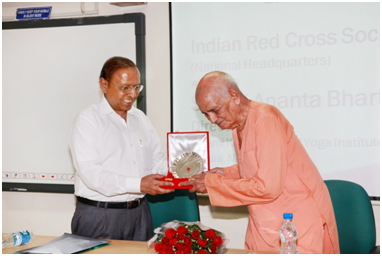 The IRCS conducts a 50 hours (3 months) part time course in Ayurveda and Yoga in collaboration with the Ministry of AYUSH, Government of India, Central Council on Research in Ayurvedic Sciences and the Morarji Desai National Institute of Yoga. 802 participants from 16 batches have been trained so far, the 17th batch is now being trained. Participants from the previous batches have been quizzed for a feedback on how the course helped them. Of the 500 respondents, 42 percent respondents reported improved mental well-being and 35 percent reported positive physical benefits after attending the course.