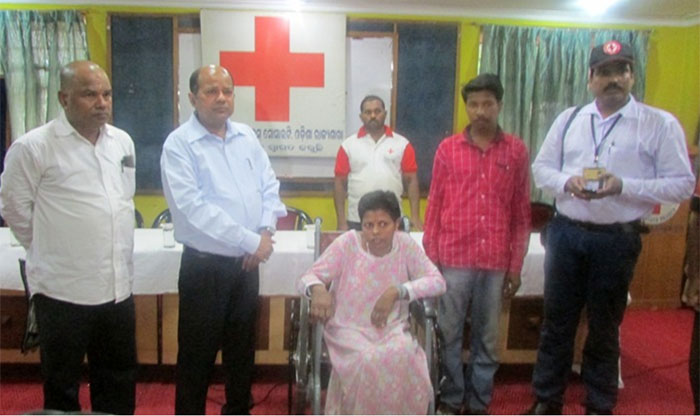 For the Indian Red Cross Society it was a heartening moment when they were able to reunite a tribal woman languishing in a mental asylum in Maharashtra with her family in Odisha after 4 years of separation. This is a one of the core activities of the Indian Red Cross and every reunion enthuses in, a greater sense of pride, fulfilment and achievement.

Sambhari Singh, aged 33 years, left her parental home in July 2010 with her youngest son. Ousted and disowned by her husband, Sambhari had come to her parents' house only in June 2010. Sambhari belonged to Baisingha in Mayurbhanj district of Odisha. Left clueless, the parental family resorted to all means of locating her but finally lost all hopes of ever meeting her again.
| | |
| --- | --- |
| Meanwhile, Sambhari was located by a local social worker, Surekha Wathore in the Regional mental Hospital at Thane district in Maharashtra, who alerted the Family News Service wing of the Odisha Red Cross Society. The Odisha Red Cross society then deputed a trained counsellor to visit Sambhari's parental family to obtain their willingness for the re-union. With coordinated efforts amongst the two State Red Cross Societies of Odisha and Maharashtra, the plan of the reunion was executed. Her brother and uncle travelled to Thane in Maharashtra with FNS personnel of the Odisha Red Cross Society and got Sambhari released from the mental hospital. | |
Helped by both the societies, Sambhari returned safely to her village in the presence of her relatives. Unfortunately, her youngest son, who had also disappeared with her, was not found. Red Cross is making all efforts to trace him as well.

The Odisha Red Cross Society will support Sambhari's psychiatric and orthopaedic treatment till her complete recovery. The society will also assist her in livelihood restoration once she is cured. Family News service is a regular activity being undertaken by the Red Cross Societies around the world, supported by the International Committee of the Red Cross (ICRC). Economic hardships, social problems, conflicts and natural disasters, separate millions of people across the world. The Red Cross Societies offer this Family News Service tracing activity to migrants, refugees and asylum seekers, separated children and family members separated die to conflicts, disasters or any other situations of humanitarian assistance.