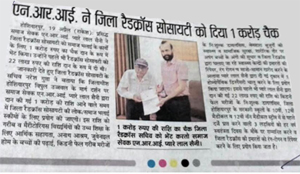 A NRI philanthropist, Shri PL Saini, has made a donation of Rs One Crore (1,00,00000) to the Hoshiyarpur district branch in the state of Punjab. This has been the biggest donation ever in the history of the district branch. Shri Saini had earlier also donated Rs 22 lacs to the society.
Shri Avinash Rai Khanna, Vice Chairman of the IRCS, National Headquarters expressing his pleasure on the donation said, "The Indian Red Cross is on the threshold of completing its century of humanitarian work and such philanthropic gesture is a recognition of the credible service of the Society in the country. I am sure that individuals and business houses from other parts of the country shall also come forward with such magnanimity.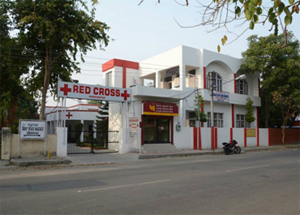 Appreciating the gesture, Shri C S Talwar, Secretary of the IRCS Punjab State Branch said, "Most probably it is the biggest ever donation received by the Red Cross in Punjab". He appealed to the people of Punjab to come forward and replicate the action to strengthen the Red Cross with such contributions.
The district branch secretary Shri Naresh K Gupta said that the fund shall be used to render free dialysis service to the poor and needy patients whose kidney does not function properly. A separate fund, "Sh PL Saini Charitable Red Cross Poor Patient Fund" has also been created to help critically ill needy people. He also said that three annual awards have been started from the donations of Shri Saini in the field of education for the topper students of Govt Schools in the district. Red Cross main office complex has recently been renovated from the earlier donation of Sh Saini, informs Mr Gupta.