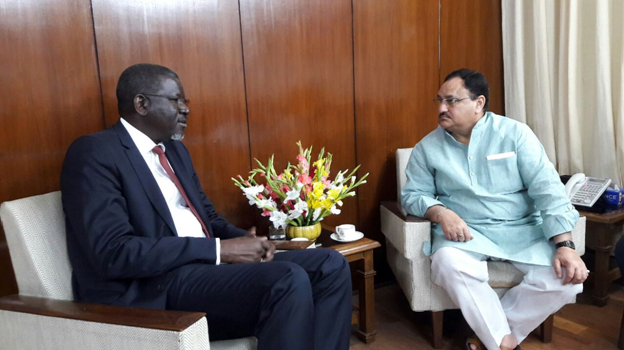 20 March 2017: The Secretary General of the International Federation of Red Cross & Red Crescent Societies Mr Elhadj As Sy accompanied by Mr Jagan Chapagain, Chief of Staff and Mr Xavier Castellanos, Regional Director, Asia Pacific was on a one day whirlwind tour of Delhi on 20 March, 2017.
He, together with his team and Shri Avinash Rai Khanna, Vice Chairman & Dr Veer Bhushan, Joint Secretary called on Shri J P Nadda, Chairman IRCS and Hon'ble Minister of Health & Family Welfare, Government of India. They discussed matter relating to the Red Cross work in India and in other parts of the world. Mr Elhadj informed the Chairman about his participation in India Today conclave in Mumbai on 18 March.
In the morning the Secretary General was received at IRCS where he saw the activities of the society. He was given a formal welcome in which Vice Chairman Shri Khanna said, "Disaster Management should reach door steps of every house in India. All people in public life, including the ministers, must be trained in first - aid so that lives are saved by utilization of the golden period."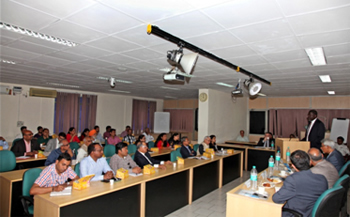 Dr Veer Bhushan, Joint Secretary in his welcome address shared the Mandi model of SERV (Social Emergency Response Volunteer)programme. He said that this flagship activity with the Mandi district in Himachal Pradesh replica is scheduled to be duplicated in some districts in the states of Andhra Pradesh, Odisha, Uttarakhand. He also dealt with the priorities and strategic directions of the IRCS for the coming years.
Mr Elhadj in his address spoke about the global refugee problem which is affecting even Europe. He also warned that climate change is threatening the human civilization in a big way leading to more complex population movement.
Mr Jagan Chapagain, Mr Xavier and Dr Rajeev Sardana of ICRC also spoke on the occasion.
In the afternoon Indian Red Cross Society hosted a round table on the topic, "Building local capacity for disaster risk reduction." Along with the Secretary General Mr Elhadj, Vice Chairman Mr Avinash Rai Khanna and Joint Secretary Dr Veer Bhushan prominent among those who joined were, Mr Kamal Kishor, member NDMA, Dr Abhay Kumar, Member TAC, IAPPD, Anshu Sharma, SEEDS Technical Services, Anil K Bhola & Lars Barud, UNICEF, G Padmanabhan UNDP, Jeremy England, ICRC, Mrs Roma Wani &Brig (Retd)Dr B D Mishra, Dr Priyanka Singh & Ms Rupa Kapoor, NCPCR, Mr Veerendra Mishra, NYKS.
Vice Chairman in his intervention said about the non ownership of infrastructure and establishments by local bodies and necessity to train maximum number of people in first-aid. Offering his comments Mr Kamal Kishore said, "Responsibilities are highest but the resources are lowest at local level." The participants talked about need to work on behavioral change of the communities, learning from the grassroots level the prevailing practices, cultural & social influences etc.