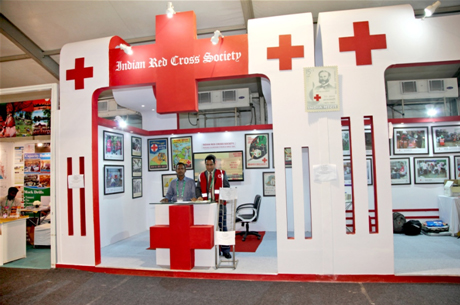 Conference on Disaster Risk Reduction (AMCDRR) was established in 2005. It is a biennial conference jointly organized by different Asian countries and the United Nations Office for Disaster Risk Reduction. (UNISDR).
This year, the 1st AMCDRR after the Sendai delaration was held in New Delhi from 3 to 5 November, 2016 at Vigyan Bhawan. Hosted by the Government of India in collaboration with the UNISDR, the AMCDRR set the direction for the implementation of the Sendai Framework within Asia-Pacific, a region that is the world's most disaster-affected, as nearly 43% of the world's natural hazards happen in this region, affecting 80% of all those impacted globally. This is also where 67% of all disaster-induced deaths occur.
Along with the conference an exhibition was also run by the organisers. The Indian Red Cross Society participated in the conference by show casing their work on DRR and response, by putting up a stall in the exhibition area. Dr Veer Bhushan, Joint Secretary, other officers and volunteers of the IRCS also participated in the conference and the side meetings.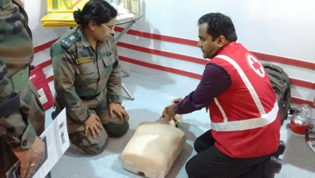 The stall attracted attention of visitors as posters of IRCS history & activities, water treatment plant, family tent, solar lantern, family packs etc were displayed. Trained IRCS first aiders also imparted instructions on first aid at the stall apart from holding demonstrations on first-aid.
The 2016 Asian Ministerial Conference on Disaster Risk Reduction (AMCDRR) adopted 'New Delhi Declaration' and 'Asian Regional Plan for Implementation of the Sendai Framework'.
New Delhi Declaration of AMCDRR is a political commitment of participating governments towards preventing
and reducing disaster risk in the Asian region. It also committed for strengthening the resilience of communities, nations and the Asian region for Disaster Risk Reduction. It commits to a people-centred and whole-of-society approach towards DRR in order to accelerate the implementation of global frameworks. It also emphasises the need to enhance the capacity of communities and ensure participation of all stakeholder groups towards achieving resilience.
The 'Asian Regional Plan for Implementation of the Sendai Framework' focuses on the 'How to' reduce disaster risk at national and local levels. It has arrived at a longer term road map of cooperation and collaboration, spanning the 15-year horizon of the Sendai Framework, as well as a two-year action plan to further disaster risk reduction with specific, actionable activities.
The conference also commemorated the first World Tsunami Awareness Day (observed on 5 November) to spread awareness on tsunami.
The next AMCDRR will be held in Mongolia in 2018.