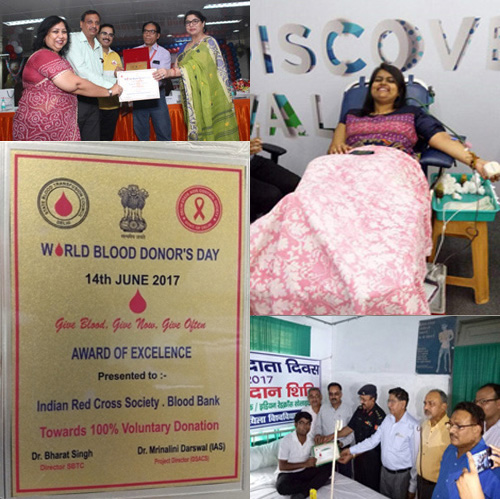 In IRCS National Headquarters and a number of branches organised and participated in activities to observe World Blood Donor Day.
Every year, on 14 June, countries around the world celebrate World Blood Donor Day. This year's theme was "Give blood. Give now. Give often".
The event serves to raise awareness of the need for safe blood and blood products and to thank blood donors for their life-saving gifts of blood.
Every pint of blood donated can save more than 3 lives! So if one starts donating blood at the age 18 and donated every 90 days until the age of 60, one would have donated 30 gallons of blood, potentially helping save more than 500 lives! But despite there being no harmful or even profound effects of blood donation on the body, there exists an acute shortfall.
In a ceremony held in Delhi the Blood Bank of the IRCS National Headquarters was felicitated with Award of Excellence for attaining 100% voluntary donation and distinguished services in the field.