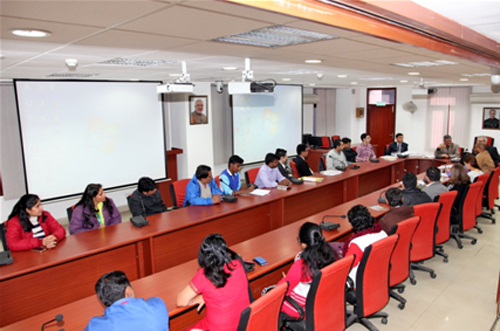 The first National Training of Educators of "Youth as Agents of behavioral change', was inaugurated at the IRCS National Headquarters on 14 December 2015.

'Youth as agents of behavioral change' is a flagship initiative of the IFRC to promote a culture of non violence and peace by educating and creating a cadre of master trainers who would provide ethical leadership role in the community and also spread a set of humanitarian values and personal skills like empathy, active listening, critical thinking, non violent communication etc amongst their peers.

The faculty comprises of international experts of IFRC and the 8 day course is being held at the National Institute of Biologicals at NOIDA, Uttar Pradesh.

"This is a very good opportunity for the participants to get trained as agents of behavioral change. But it should not stop here. You have to take it forward to your peers and others to trigger the change. First bring the change in you and then embark on changing others", said Dr Veer Bhushan, Joint Secretary, addressing the course participants.

Youth leaders from 13 state Red Cross branches have come to Delhi to attend the course. The convener of the programme, Dr Vanashree Singh said that the full time residential course has been designed to create a cadre of trainers who would be empowered with the necessary skills to take the learning to the community level ensuring the peer learning approach. Mr Bhavesh Sodagar, IFRC said that the Indian Red Cross is among 125 national societies to have adopted this approach of bringing behavioral change among the community.

Officials of the IFRC, ICRC and Indian Red Cross Society also attended the opening session.