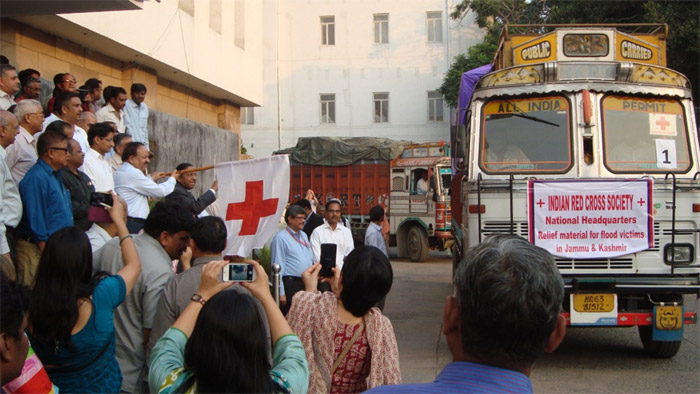 Dr. Harsh Vardhan, Hon'ble Minister for Health & Family Welfare and the Chairman of the Indian Red Cross flagged off relief supplies today form the National Headquarters of the society, for the victims of the floods in the state of J & K. The relief convoy of 11 trucks has been sent based on the need assessment by the J&K State Branch of the Indian Red Cross. The items sent include 3900 pieces each of bed sheets and woolen blankets, 1500 gents dhotis, 1000 pieces of saris, 1300 kitchen sets, 6500 towels, 2600 plastic buckets, 800 tarpaulins, 500 family tents and 1300 pieces each of stove, hygiene kits and solar lanterns. The cost of the total consignment is Rs.1.69 crore.
'The present supplies are in addition to those sent earlier. The cost of earlier supplies was Rs.3.61 crore' said Dr.S.P.Agarwal, Secretary General Indian Red Cross Society. He also added that Red Cross branches across the country have been sending relief supplies to the State. He praised the hard work being done by Red Cross staff and volunteers since the time of the flooding.
IRCS is also operating 8 water purification units in the state which are providing potable water to the affected people at different locations, including relief camps. These water purification units are providing 1.50 lac liters of drinking water daily to the victims.