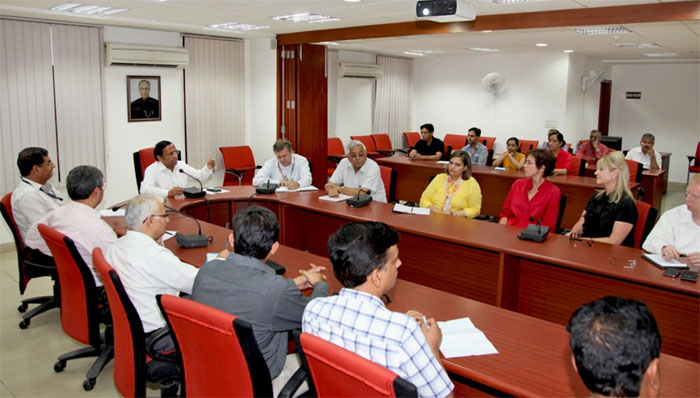 The Indian Red Cross Society, National Headquarters commemorated the anniversary of Uttarakhand Flash Floods on 17th June, 2014 at its multi-purpose conference facility.


The Uttarakhand cloud burst followed by incessant rain, floods and landslide was one of the most tragic calamities of recent times in which over three thousand people lost their lives and thousands went missing. The disaster destroyed infrastructure of 4 districts and caused untold misery to 4 districts of the state and several lakh inhabitants of the area.
Vast devastation was caused in many districts of Uttarakhand on and after17 th June, 2013
The Indian Red Cross Society, National Headquarters and several State/UT & district branches joined the Uttarakhand State Branch in relief and Family News Services work. Recalling the events Dr.S.P.Agarwal, Secretary General, IRCS (NHQ) said, "Fortunately IRCS had trained 4800 First Medical Responders in the State in the year 2011, who worked round the clock to provide essential services and help to the victims."


He added that the FMRs provided first-aid, family news services, water sanitation and general relief work during the first 24 hours itself.
FMR administering relief to the victims
While praising the role of Dr.I.S.Pal, Honorary Secretary of Uttarakhand State Branch, he also said that the leadership provided by him was encouraging and of high calibre. Dr.I.S.Pal was a special invitee on the occasion. The programme was attended by, among others, the officials and delegates of the International Federation of Red Cross, International Committee of Red Cross, Partner National Societies, Mr. Kenneth Earhart Director CDC India and Dr.R.L.Icchpujani, adviser CDC India.



In his address Dr Pal said, "One school in the area, which was devastated, is still running in the tents provided by Red Cross. Red Cross tents are being used this year to provide shelter to the pilgrims, as no other shelters are available".

Dr S P Agarwal chairing the commemoration of the Uttarakhand tragedy
He requested that as the state was disaster prone, the National Headquarters should evolve a structured and robust Disaster Management strategy which should be sustainable. At the moment there are 4800 trained FMRs working in Uttarakhand. More daunting is the task of reconstruction. The IRCS is not lagging behind and ready to shoulder the burden and walk the mile with the State and the Central Governments.