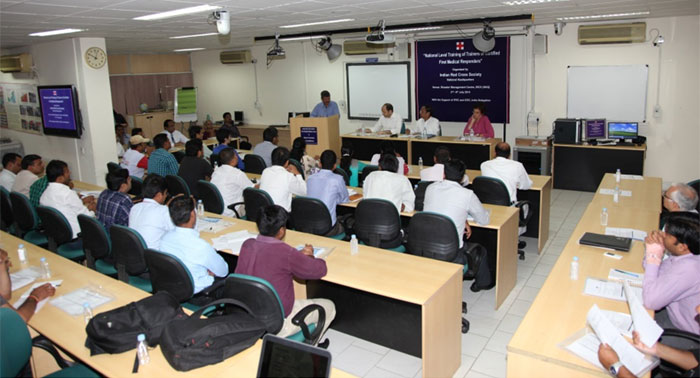 The Indian Red Cross Society (National Headquarters) has organised the 2nd national level training of Trainers (ToT) of the First Medical Responders (FMR) at the Disaster Management Centre (DMC). The training is being conducted from 2nd – 8th July 2014. The first such training was organised in 2013. It is being attended by master trainers from 17 states who will be trained by an expert joint faculty from International Federation of the Red Cross Societies (IFRC), International Committee of the Red Cross, India Delegation (ICRC) and IRCS.
| | |
| --- | --- |
| | The First Medical Responders is a unique programme of the Indian Red Cross Society whose pilot programme was launched in Uttarakhand in 2011 and subsequently has been extended to 18 most disaster prone states of the country. An FMR is a person who is certified to provide first aid in emergencies to the community before external help arrives. The FMRs are trained volunteers from amongst the community and are the first to respond to community needs in times of crisis and disasters. Under the FMR module, volunteers are trained for providing first aid, water, sanitation and hygiene promotion, public health and psychosocial support, search and rescue and management of dead bodies. At present IRCS has more than 5000 trained First Medical Responders, instructors and Master trainers in the country. |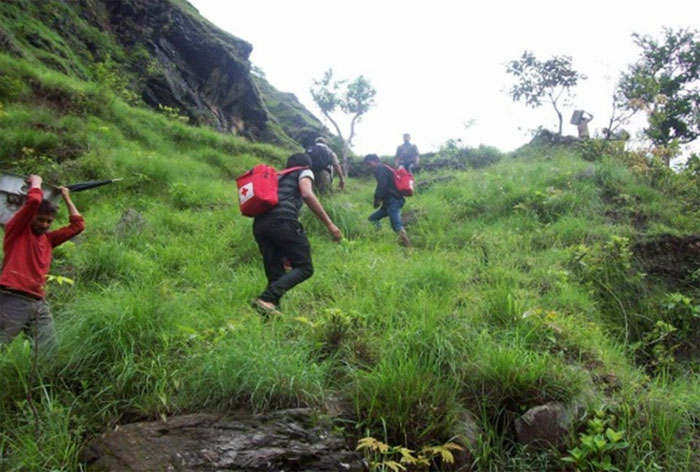 This ToT takes special significance, keeping in view the oncoming monsoon which often results in heavy flooding in many states, leading to loss of lives and property. The Master trainers will supplement those already in existence in these states and will be able to train, guide and support the work of FMRs. The function was inaugurated by Dr S P Agarwal, Secretary General, Indian Red Cross Society and was also attended by Mr. Benjamin Wahren, Deputy Head of ICRC,, Ms. Olivera Burgess, Acting Head of South Asia Regional Delegation, (IFRC) and their teams as well as the officers of IRCS and participants of the training programme.

During the function, Dr S P Agarwal sensitized the participants about to the new "FMR database" microsite which will soon be linked to the main IRCS website. This microsite will have the complete information of the IRCS FMRs so that they can be easily contacted and mobilized during any disaster. This microsite has been indigenously developed by volunteers from BITS Pilani, Rajasthan.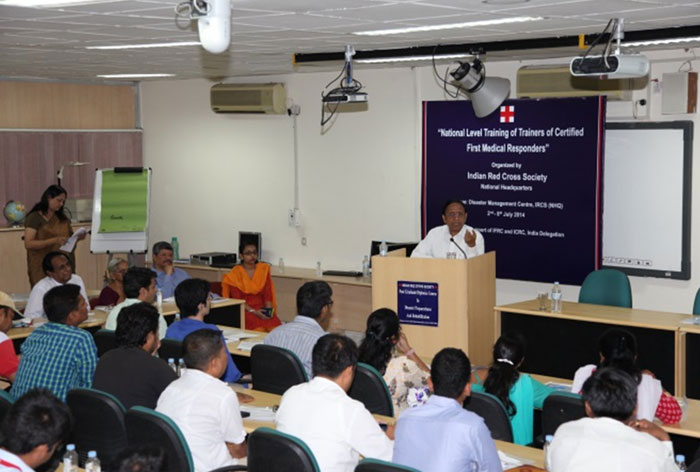 Dr S P Agarwal, Secretary General, IRCS addressing master trainers at the inaugural session
Describing the site as a completely new dimension in terms of disaster preparedness, Dr Agarwal said that it had huge potential in bringing together communities and preparing them for disaster risk reduction, relief and rehabilitation. He added that the site will motivate the state and district branches to add to the volunteer and FMR force of IRCS and be better prepared to face natural calamities and other eventualities like road accidents etc. where communities can play a major role in providing relief and first aid.