FMRs interacting & providing Psychosocial support to the victims of Indore-Patna Express Train Accident in Hellat Hospital Kanpur
In one of the worst train accidents (Indore-Patna Express) 20.11.2016 early morning left over 150 dead and scores injured and missing.
Indian Red Cross society Uttar Pradesh State Branch General Secretary Dr. Shyam Swaroop communicated with the IRCS Kanpur District Branch Secretary Shri R.K. Saffar and other Red Cross Senior officials & members and took the status of the situation and asked the District Branch secretary to respond to this emergency in the best of their branch's capacity. He also asked a team of FMRs from the state branch to immediately reach Kanpur and coordinate with the district team and respond to the situation.
Kanpur District Branch Secretary Shri R.K. Saffar along with a team of volunteers joined the district administration in relief work and provided medicine, food & water to the victims and their family members at the Helat Hospital. 28 units of blood was donated by Red Cross team and around 32 volunteered were registered for future needs. The Kanpur team was joined by the State Branch First Medical Responders later on.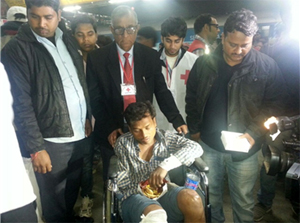 The victims were very much worried & concerned about the missing family members/friends travelling with them. Accordingly tracing and family reunification services were also triggered.
The FMRs also provided psychosocial support to the victims & family members. Red Cross team mentioned that out of the 101 missing, 07 were and the data collected was analyzed to facilitate for family reunification.
Several injured persons were taken to Patna in a relief train. Bihar state branch had stationed a team under the leadership of its chairman, Dr B B Sinha at Patna junction. A medical post, wheelchairs, stretchers, medicines and food supply was arranged for the needy at the station and also at the hospital where the injured were taken in Red Cross ambulance/vehicles. Data for those missing was also prepared leading to family reunification.