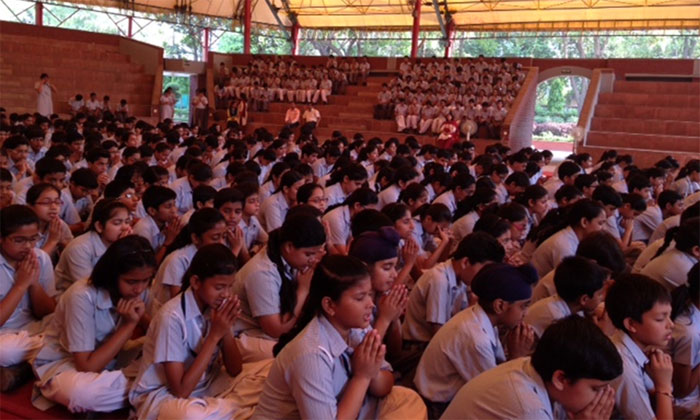 Volunteering and promoting humanitarian principles are the bulwark of the Red Cross Movement across the world. On the World Red Cross Day celebrated on the 8th of May, the Indian Red Cross Society members, along with the partners, visited two premiere schools in Delhi, to create awareness about Red Cross and to exalt the authorities to be a part of the Movement.

At Modern school, Jr wing Humayun Road, Delhi, children were enthused when the Red Cross team of Dr Vanshree Singh, Director, BloodBank , IRCS (NHQ), Dr Kailash Raizada, Advisor (Health), International Federation of the Red Cross(IFRC) and Dr Rajiv Sadana, Senior Cooperation Advisor, International Committee of the Red Cross (ICRC) distributed scarves and books about the Red Cross Movement.
| | |
| --- | --- |
| Children at Modern School, Delhi learning about the Red Cross Movement | About 500 students from classes four and five and 25 faculty members attended this session.They were shown short films on how the Red Cross Movement took shape, what are the fundamental principles that govern it, and what are the various symbols that Red Cross uses around the world. The children were made aware about the various voluntary contributions made by thousands of Red Cross volunteers and members each day, across the world that help people in distress. |
The importance of voluntary blood donation was emphasized and a demonstration was given on techniques of bandaging in case a simple injury was given.
A similar session was held for the children of Gyan Bharti Public School in Saket, New Delhii. Full of enthusiasm and wit, these little children bombarded the team with questions that ranged from "Why should anybody help someone else?" to "What is the incentive to help others?"
| | |
| --- | --- |
| The team of Bhavesh Sodagar, Senior Manager, OD (South Asia) of the International Federation of Red Cross & Red Crescent Societies (IFRC) and Ritu Satmukhi, Project Coordinator, IRCS answered all their queries. Bhavesh also narrated his own moving story of how he joined the movement during the Bhuj earthquake, after he lost his aunt and wanted to help more and more people caught up in the tragedy and Red Cross became his calling. | Bhavesh Sodagar of the Red Cross Team narrating his own story of the Bhuj Earthquake at Gyan Bharti School, Delhi |
Volunteering is at the core of the Red Cross Movement. There are more than 17million volunteers spread out in almost all communities of the World. This years' theme for the World Red Cross Day, "My Red Cross Story" is dedicated to the contributions of volunteers towards rescue & aid of people caught in conflicts, disasters and inhuman conditions throughout the world. It is the Red Cross endeavour to catalogue personal accounts of help and aid, so that others get motivated by this humane spirit and join in to help the cause of the deprived & needy sections.