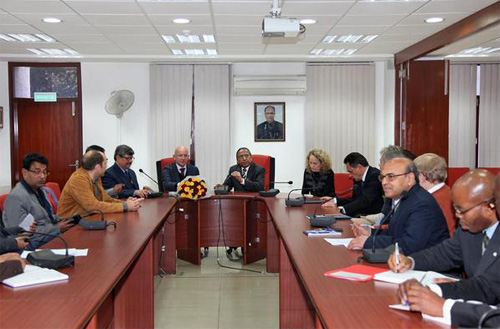 On his visit to the Indian Red Cross Society (IRCS) National Headquarters on the 16th of January, 2015, Mr Yves Daccord, Director General of the International Committee of the Red Cross (ICRC) said that the Red Cross will have to concentrate on both quality of the aid that it provides as well as the growing needs of the people due to disasters, conflicts and health insufficiencies.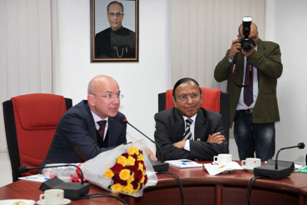 He said that throughout the world, people are getting more demanding of the Red Cross and therefore it is time for the movement to raise its game. He stressed that the movement needs to be more ambitious in terms of reaching out to more and more people in need, by building more partnerships. Mr Daccord agreed to support the Indian Red Cross Society with knowledge and capacity and felt that resources would eventually follow.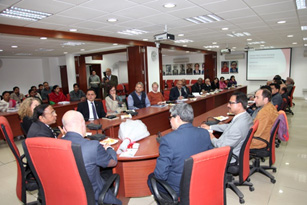 While addressing the gathering at the Multi-purpose conference facility of the IRCS National Headquarters, Dr S P Agarwal, Secretary General, IRCS described Mr Daccord as a go getter and said that he was happy with the cooperation activities between the two partner organizations. He specially spoke about the fact that India has the highest number of Multi Drug Resistant TB patients in the world and hoped that both the organizations could work closely on trying to curtail these numbers. He reiterated the fact that if Red Cross wanted to make a difference, then it was time to concentrate on areas of need.
Representatives and senior officials of IRCS, International Federation of Red Cross and Red Crescent Societies, ICRC, Canadian Red Cross and Belgian Red Cross-Flanders including Mr Simon Missiri, Head of South Asia Regional Delegation, IFRC and Ms. Mary Werntz, Head of Delegation - India, ICRC were present at the event. The main objective of Mr Daccord's visit was to continue strengthening the global strategic dialogue with the Indian authorities and the Indian Red Cross Society on humanitarian issues.