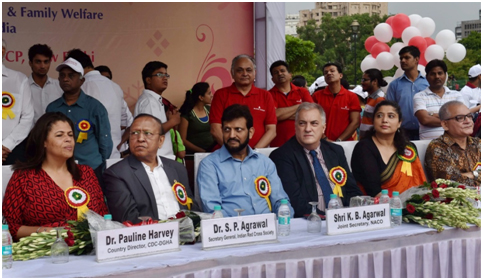 The Indian Red Cross Society celebrated the World Blood Donor Day along with National Aids Control Organization on 14th June, 2015 at Central Park, Rajiv Chowk, New Delhi from 7 am onwards. Despite the rainy morning, many enthusiastic voluntary blood donors and voluntary blood donation organizations were present at the venue. Dr S P Agarwal, Secretary General, Indian Red Cross Society along with Dr Pauline Harvey, Country Director, CDC, Mr K B Agarwal, Joint Secretary, NACO, Dr Arun Thapa, WHO representative to India were among many other important officials who attended the function. Many people also joined in from the Raahgiri that was on at that moment in the Central Park.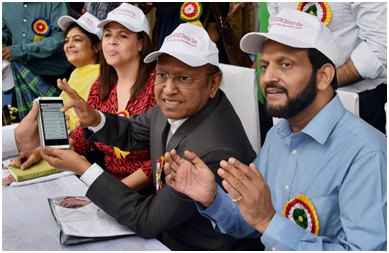 A mobile Blood Bank locator App was launched by Dr S P Agarwal to mark the day. When in need, this App can locate and direct the person to the nearest Blood Bank.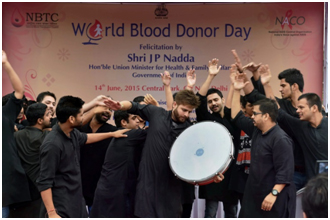 Among the other activities that were held to promote Blood Donation, a street play was enacted by members of a theatre group to highlight the relevance of blood donation in a civil society, as well as bust myths about Blood Donation that hinder people from donating.
The Indian Red Cross Blood Bank mobile van was also in attendence at the venue and many donors came forward to donate their blood at the Central Park. The Blood Bank at IRCS National Headquarters also saw regular footfalls of voluntary donors who especially wanted to make this day more relevant by donating blood.

| | | |
| --- | --- | --- |
| | | |
| Many people donated blood in the IRCS mobile Blood Donation van | | An enthusiast dressed up as a blood drop at the Central park lawns, Rajiv Chowk, New Delhi |
The Indian Red Cross Society as auxiliary to the Indian Government contributes through its 166 blood banks across the country and provides for about 10% of the total blood collected in the country. The blood bank at the National Headquarters of the Indian Red Cross Society collects approx. 30,000 units of blood annually out of which 90% is collected from voluntary blood donors. "As one of the core activities, IRCS is working towards attaining the 100 percent voluntary blood donation mark so that it is able to provide safest blood to those in need", said Dr Vanshree Singh, Director, Blood Bank, IRCS (NHQ).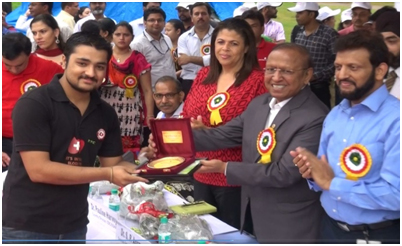 The Red Cross Movement is uniquely placed to contribute to improving the safety and accessibility of the world's blood supply. Having the largest humanitarian network of volunteers, it has considerable experience with volunteer retention, motivation and support. The Red Cross and Red Crescent Societies have more than 34 million blood donors globally.