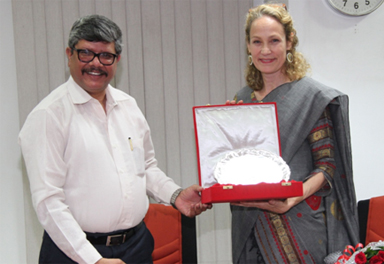 Ms Mary Werntz, Head of the Regional Delegation of the ICRC, New Delhi has finished her stint in the region. IRCS, Nhq organized a farewell function on the occasion on 27th of July 2016. Delegates, officers and staff of the IRCS, ICRC & IFRC attended the function.

Dr Veer Bhushan, Acting Secretary General, IRCS, in his address thanked the outgoing Head of the Regional Delegation for her excellent work and interpersonal skills by which the relations of the two organizations have improved a great deal. He also mentioned that due to her earlier assignment in the country, she was familiar with the Indian culture, social ethos and behavioral characteristics that helped her shoulder the responsibilities efficiently. While extending a warm welcome to Ms Werntz's successor, Mr Jeremy England, Dr Bhushan expressed his confidence in the continued cooperation between IRCS & ICRC.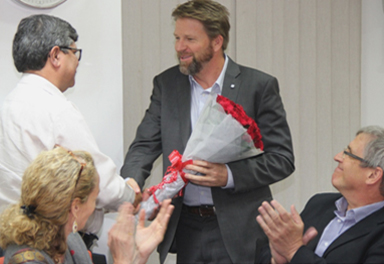 Mr Leon Prop, Head of, the IFRC in New Delhi praised Ms Mary for expanding the role and activities of the ICRC in the region and her astute leadership skills.

Ms Mary thanked the IRCS for arranging the function. She also said that India and IRCS occupy an important space in her heart as she worked in Jammu & Kashmir at the beginning of her career with the ICRC. She added, "I would love to come here again and again".