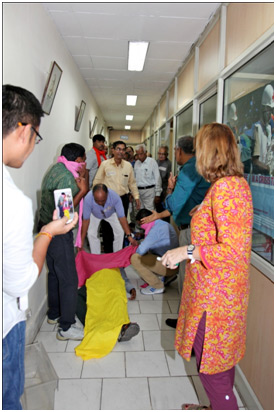 IRCS National Headquarters hosted a training to train the Red Cross & St John Master Trainers at its premises from 9 – 12 August 2016. The course participants were already proficient and qualified to train people in their respective territories. Talking about the training Dr Veer Bhushan, Joint Secretary said, "This training was necessitated as the updated "Evidence based Indian First Aid Manual" approved by St John Ambulance (India) and the Indian Red Cross has been launched and we are soon going to start the first State of Art Centre of Excellence in First Aid Training at Bahadurgarh, on the out skirts of Delhi. Also, the refresher for Master trainers will update them on current international training methodologies and will enable large numbers of Lay lecturers to receive regular up gradation."

There were 22 participants representing both the St John centres and Red Cross from across the country. There was a lot of emphasis on practical training. Hence the trainers' watchful eyes were regularly monitoring the performance of the participants. The correct and latest methodology was shared for imparting techniques used in teaching emergency first aid.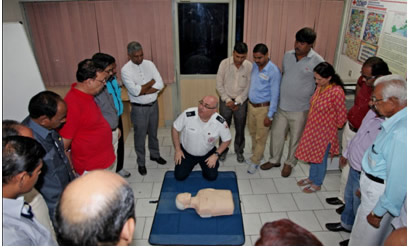 The key faculty were s trainers included Ms. Felicity Gapes, Regional. Health Coordinator, ICRC who specializes in Community Based First Aid and Mr Chaim Rafalowsky, FA coordinator (EU) and Ms Ortal Yablonka, Medic from Israel 's Magen David Adom which is Israel's national emergency medical, disaster, ambulance and blood bank service provider. It is also and a member of the global Red Cross family. The name means "Red Star of David".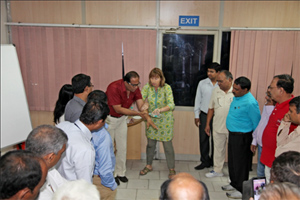 The faculty from All India Institute of Medical Sciences, New Delhi who are partnering with the IRCS and SJA, included Dr Maneesh Singhal, Dr Rakesh Garg, Dr Pawan Sharma, Mr Suresh Chand Sangi, Mr Tulsi Ram Gupta, Ms Sonia Chauhan, from AIIMS, who are the leaders in training of emergency medicine in India.