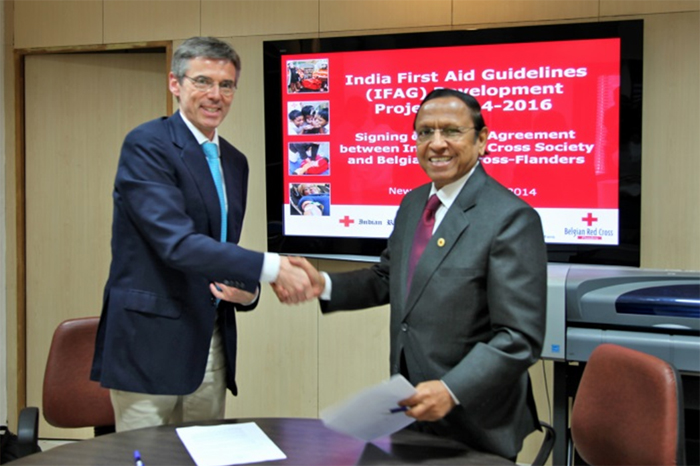 An agreement of cooperation was signed by Dr S P Agarwal, Secretary General, IRCS and Dr Philippe Vandekerckhove, CEO, Belgian Red Cross-Flanders for development of the Indian First Aid Guidelines (IFAG) & the First Indian First Aid Manual (IFAM), on the 3rd of May, 2014 at the National Headquarters of the IRCS.
| | |
| --- | --- |
| The IFAM Meeting on 2nd May, 2014 | The second Expert Panel meeting for development of IFAG/IFAM was held at the Disaster Management Centre, Indian Red Cross Society, National Headquarters of the on the 2nd and 3rd of May, 2014, to further discuss the recommendations of the panel made during the previous meeting held in January 2014, and to carry out discussions further. |
The Expert Panel comprises of experts drawn from Jai Prakash Narain Apex Trauma Centre (AIIMS) and, National Centre for Disease Control and Centre for Disease Control (India), along with experts from the IRCS, St John Ambulance (India) and the Belgian Red Cross-Flanders.
| | |
| --- | --- |
| These deliberations will lead to the development of Evidence Based First Aid Guidelines and their culmination into a manual, specifically targeted at lay people. The project of developing the manual was initiated in January 2013, at the National Headquarters, IRCS. | Deliberations at the IFAM Meeting on 3rd May, 2014 |
The Indian Red Cross Society along with St John Ambulance (India) is the largest provider of First Aid trainings to professionals as also lay persons. Presently, the IRCS and St John Ambulance (I) are training more than 6 lac First Aiders per year throughout the country. IRCS (NHQ) has recently revised the First Aid Manual which has been printed in several languages. However, Evidence based practise being the norm in all scientific endeavours, the IRCS(NHQ) along with the Belgian Red Cross-Flanders has embarked on developing the IFAG & IFAM, so that First Aid training using evidence based recommendations can be imparted to the trainees. The Belgian Red Cross-Flanders are leaders in the field and have already developed similar evidence based First Aid Manuals for Europe (EFAM) and and Africa (AFAM).