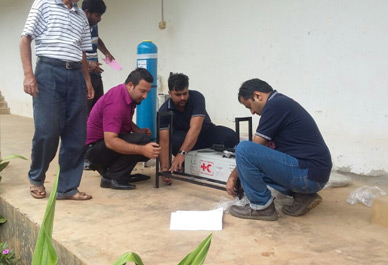 Following alarming drought earlier this year, India is now facing above average monsoon rainfall across three quarters of the country. The worst affected states include Bihar, Madhya Pradesh, Uttar Pradesh, Uttarakhand, Rajasthan and the northeastern state of Assam, where floods have affected nearly 1.7 million people.
The people of Assam are no strangers to floods as forty per cent of the state is prone to flooding.

But the intensity of these floods is greater than normal due to excessive rains and floodwaters from adjoining states.

Authorities established 472 relief camps, which are providing shelter for nearly 113,000 people.

Indian Red Cross volunteers are supporting authorities with the search and rescue operation. They are also providing first aid.

The state wise details are as under.

Uttarakhand Floods May 2016

During the month of June 2016 in District Tehri, Dhansai block, landslide and cloudburst in many areas resulted in 06 people losing their lives, many were injured and loss of property livestock was also reported. Uttarakhand state branch distributed relief material in the affected villages. Indian Red Cross Society, NHQ had dispatched 200 family packs for distribution among affected people.

Since July 1, 2016, due to the incessant and heavy rainfall, the region suffered from massive landslides and flash floods which resulted in loss of life and loss of property and livestock, it has been reported by DDMA Uttarakhand that 38 people have lost their lives in Pithoragarh and Chamoli and many are still reported missing, DP Supervisor, DM programme and the FMRs visited the landslide area. IRCS, NHQ further dispatched 1000 woolen blankets. Red Cross tents have been used as Disaster Relief Camp at Govt. Inter Collage Singali, Tehsil Didihat, District Pithoragarh.

400 family packs were released along with 1000 additional woolen blankets for the affected population in Uttarakhand. The family packs included bed sheets, blankets, ladies sari, dhotis, mosquito nets, kitchen sets, towels, plastic buckets and tarpaulin sheets. The items were dispatched from Bahadurgarh warehouse. The approximate cost of the items is INR 15,44,200/-

Madhya Pradesh Flood July 2016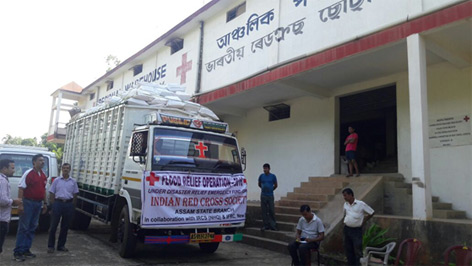 Heavy rain and flooding took place in various regions in Madhya Pradesh. More than 5000 families were badly affected and the district administration of Satna requested IRCS Nhq support. As a response the requested relief material in the form of 500 family packs, including tarpaulin, was spatched from Bahadurgarh and Vikhroli warehouses. The approximate cost of the items are INR 13,59000/-


Assam Floods 2016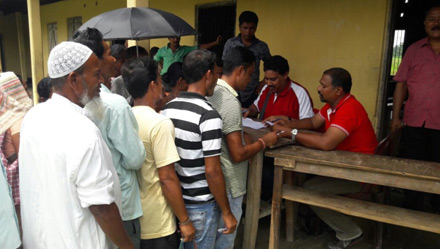 The flood situation in Assam was critical. Almost 11.50 lakh people in 1700 villages of 21 districts were affected across the state. The affected districts are Barpeta, Sonitpur, Dhemaji, Lakhimpur, Golaghat, Sivsagar, Kokrajhar, Tinsukia, Chirang, Dhubri, Darrang, Morigaon, Biswanath, Goalpara, Jorhat, Dibrugarh, Nagaon, South Kamrup, Karbi Anglong, Kamrup Metro and Bongaigaon. Nearly 1 lakh hectares of standing crop, mostly paddy, was damaged by the overflowing rivers. A team was deputed by Nhq on August 9, 2016. 5000 family packs were released under DREF 2016 and 2000 family packs would be released after the procurement of the same is carried out by IFRC. The following relief material was released from various warehouses:
Details of relief Distribution under DREF

* Materials Distributed-
Sl. No.

Date

District

Place of Distribution

No of Kits

Distribution Type

23/08/2016

Morigaon

Bhuragaon

500

Manual

24/08/2016

Sahitya Sabha Bhavan, Morigaon

300

Manual

03/09/2016

Dhemaji

DC's Office Campus, Dhemaji

250

ODK- 100,
Manual- 150

04/09/2016

DC's Office Campus, Dhemaji

250

ODK- 100,
Manual- 150

05/09/2016

Lakhimpur

Panigaon Samabai Samittee Office Campus

200

Manual

06/09/2016

Lakhimpur

Naeboisa Revenue Circle

100

ODK

06/09/2016

Bihpuria Revenue Circle

100

Manual

07/09/2016

Dhakumakhana Sub Division

300

Manual

Total

2000
The cost of above mentioned relief material is INR 1.75 crores.
Along with the above 500 solar lanterns have also been sent. The cost of the lantern supply was Rs 6.25 lacs. For meeting operational costs Rs 6.00 lacs was also provided to the branch.
First Time Use of ODK

This was the first time when Open Data Kit (ODK) & Mega 5 have been used in data management of beneficiaries and relief distribution. This innovative solution has been developed using High Tech digital technology, which uses digital bar code scanning (Mega V) that could be used to quickly scan and verify the beneficiary card, rather than manually reviewing registration documents. This approach, tested by other National Societies in different relief operations, helps reduce the waiting time of the beneficiary to get their card validated quickly, increases the security, transparency and dignity of the distribution as well as the beneficiary satisfaction. This also helps in assessments, data analysis and documentation.

Bihar Floods

As a result of continuous flow of rainwater from upstream terrain of Nepal and monsoon rains resulted in flooding of 12 districts of Bihar – Purnea, Kishanganj, Araria, Darbhanga, Madhepura, Bhagalpur, Katihar, Saharsa, Muzaffarpur, Supaul, Khagaria and Gopalganj. With the rise in level of the Ganga due to release of water from Bansagar dam more than 400,000 people have been affected. 24 out of 38 districts are flood affected.
Water from Sone and Ganga breached the embankments. Patna is witnessing floods, the worst since 1994. IRCS NHQ released 1000 family packs along with 1430 plastic buckets,1240 mosquito nets and 1150 garments (assorted). The cost of above mentioned relief material is INR 3935270 except the cost of assorted garments. IFRC representative visited Bihar for assessment of the flood situation from 10-12 August. Another team of 02 Hong Kong Red Cross representatives and IRCS representative visited Bihar from 23rd August to 25 th August for assessment. Solar Lanterns are also being sent. The Nhq also issued 1000 solar lanterns for distribution in Bihar the cost of which was INR 12.50 lacs.