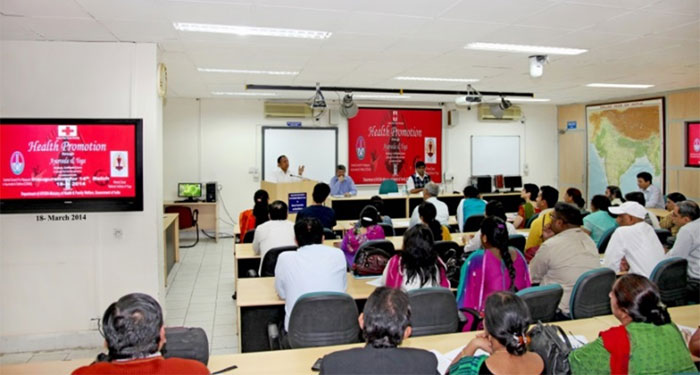 The 14th batch of health promotion through Ayurveda and yoga course was inaugurated on the 18th of March, 2014. The 50 hours Health Promotion course was launched in February 2010 in collaboration with Central Council for Research in Ayurvedic Sciences (CCRAS) & Morarji Desai National Institute of Yoga (MDNIY) with the support of Department of AYUSH, Ministry of Health & Family Welfare, Government of India. So far 13 batches have been trained in this course, which consists of lectures and demonstrations on Ayurveda. For this batch, more than 200 applications were received and participants were carefully chosen from different professional backgrounds.
| | |
| --- | --- |
| IRCS Secretary General, Dr S P Agarwal welcoming the participants at the inaugural session | As dynamics of the world we live in change, so does our lifestyle. With new stresses, the incidence of high blood pressure and other cardiovascular diseases, obesity, diabetes, anxiety, depression and other lifestyle diseases are rising. |
During introduction by the participants, paramount in their minds was the objective of being able to combat these modern stresses and lead a healthy and happy lifestyle for themselves and their families. While welcoming the participants, Dr S P Agarwal, Secretary General of the Indian Red Cross Society and the Course Director, said that through the course, the motive of IRCS is not to train participants as teachers or instructors, but to promote awareness about Ayurveda and Yoga and make them the torch bearers for these ancient sciences and entrust them to help modify lives of those around them.. He added that knowing the right diet through Ayurveda was interconnected with Yogic awareness, which can never be learnt by watching, rather has to be practised.
| | |
| --- | --- |
| Dr Rajkumar Yadav, Additional professor, Dept. of Physiology, All India Institute of Medical Sciences (AIIMS) said that at AIIMS, Yoga is a science, not just a spiritual practise and efforts are on to provide the evidence for it. | Dr Rajkumar Yadav, speaking at the inaugural session |
He appreciated that IRCS was testing each participant on various health parameters before and on completion of the course, so as to measure the changes and effects that Yoga and Ayurveda had on them. He said that AIIMS has been working on Yoga for almost a decade and felt that the day is not far when it would be proved that Yoga is at par with any branch of modern science.
| | |
| --- | --- |
| Dr Basavaraddi making the keynote address | Dr Ishwar V.Basavaraddi, Director, Morarji Desai National Institute of Yoga, made the keynote address and informed the participants about what will be taught during the tenure of the course. He elaborated that Yoga is essentially mind centric, and that the ability to control our senses and motor organs can stabilize our mind and the subsequent flow of thoughts. |
The capacity to be able to choose thoughts that are good for us and discard negatives is what leads us to stress-free and blissful living. He added that what we eat also affects our emotional health, thoughts and little diet modifications through Ayurveda can go a long way in the complete healing process.