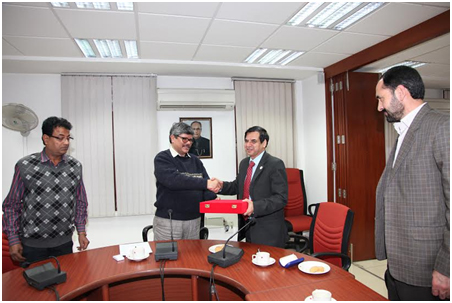 The Secretary General of the Afghanistan Red Crescent Society, Mr Mohammed Naim DINDAR, visited Indian Red Cross Society on 4th February 2016. He was accompanied by two senior colleagues of the national society on the tour.
Joint Secretary of the Indian Red Cross Society, Dr Veer Bhushan welcomed Mr DINDAR and his team. He recalled the long friendly relations between the two national societies and the previous dialogues with each other in the recent past. A presentation was also made to inform him about the programmes and activities of the IRCS. The two exchanged ideas of mutual interest and the areas of future cooperation. The IRCS offered ARCS the services of the Central Training Institute, Bahadurgarh, Haryana and opportunities to include ARCS staff and volunteers for its training programmes.

Mr Mohammed Naim DINDAR thanked Dr Veer Bhushan for hosting ARCS delegation and offers of partnership. He visited the Disaster Management centre and appreciated the courses being run there. He also conveyed his condolences on the sad demise of the Secretary General, Dr S P Agarwal.