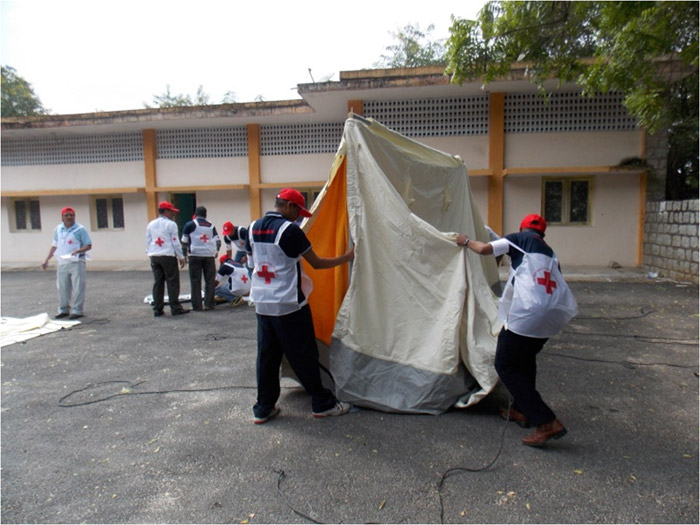 The years 2012 and 2013 saw a number of disasters plaguing the country. Thousands of lives were lost and huge damages incurred by way of destruction of houses, crops and other infrastructure. The Indian Red Cross Society was present with relief and rehabilitation measures in all situations.
| | |
| --- | --- |
| A class in progress at the Arakkonam Warehouse, Chennai | Faced with the fact that India lies in the most disaster prone zone, the Indian Red Cross Society on a regular basis trains people from various walks of life, in disaster management to build capacities to face such situation. |
As per plans, National Disaster Response Team (NDRT) trainings were organised at the three IRCS regional warehouses, in Bahadurgarh, Arakkonam and Salt Lake, starting on the 22nd November, 2nd December and 9th December respectively.
| | |
| --- | --- |
| Two volunteers from each state branch were invited to attend the training programmes of NDRT. | Volunteers training at the Bahadurgarh Warehouse, Delhi |
The 6 day NDRT Training curriculum included sensitization on different types of disasters, their characteristics and concepts of emergency, disaster, risk, vulnerability, Disaster Management Strategy of the Indian Red Cross during disasters.
| | |
| --- | --- |
| Queries being answered at the Salt Lake Warehouse, Kolkata | They are also trained on IRCS Disaster Response System- policy, structure, tools etc., Public Health in Emergency, Water and Sanitation, Food and Nutrition, Warehouse & Logistic , Dead body management, Mobile Disaster Unit, Disaster Mental Health/Pyscho-social Support, Family News Service and many other related topics of disaster management. |
A total of 51 volunteers attended the training These volunteers belonged to various walks of life. Some of them are doctors, engineers, administrators, businessmen while some are social workers, first aid trainers or full time Red Crossers. Most of belong to the 25-45 yrs age category.
| | |
| --- | --- |
| Whatever may be their profession, they are committed to the cause of relief. Many of them have some experience from previous disasters and are highly committed to the cause of IRCS, ie. Relief in times of disasters. | Training in logistics support |
They keep coming back to the Indian Red Cross Society for similar trainings to hone their skills further and be of greater help should a disaster strike again.
| | |
| --- | --- |
| Equipment Training in progress | Their zeal to train as disaster response personnel and further build resilience amongst their communities is what makes them stand apart. |
With the country being so vulnerable to disasters, the Indian Red Cross Society finds it imperative to be able to train people at various levels in disaster preparedness, so that ensuing disasters can be managed effectively and promptly.