Theme of the function- "Every blood donor is a hero"
Indian Red Cross on the World Blood Donor Day celebrations at National Headquarters, stood together to thank their heroes. "Every blood donor is a hero", emphasized Shri Ghulam Nabi Azad, Chairman , Indian Red Cross. This was indeed an ideal moment to thank them and tell them " We care, for your care".
Since 1962, it has been a relentless journey so far, 166 blood banks across 14 states covering the length and breadth of the nation. IRCS constitute 5 % of the total blood banks in the Nation and yet contribute 10% of blood towards the National requirement through regular blood donation.
Secretary General, Indian Red Cross Dr( Prof) S.P Agarwal , reminded everyone "Blood transcends borders and barriers". Fortunately enough the colour of blood is Red, in every bloodstream, it unites everybody irrespective of caste, creed, colour, sex, religion and nationality. He urged the youth to come forward and donate blood to unite and save lives.
Indian Red Cross blood bank, NHQ designated as the "Model Blood Bank" collects 88% of voluntary blood donations, thanks to its asset of Regular Non remunerative blood donors. IRCS provides blood to government hospitals and the needy free of charge as well as to 900 thallassemic children who constitute 50% of the total thallassemic population in New Delhii.
"I am grateful for the services offered by the Indian Red Cross Society. Their consistent efforts to make life effortless for the thallassemic cannot be thanked enough. Blood transfusion in every 21 days is only understood by those who undergo it, but there is someone else too, that Indian Red Cross", says Ashwini a young volunteer at Indian Red Cross blood bank.
Mr Pawan Diwan who was present at the National Headquarters to donate blood on the World Blood Donor Day stated "It began in 1980 and since then 85 times i have donated blood at the Indian Red Cross". His words punctuated with short pauses. He further adds," Its a habit now, like a regular insurance premium, I invest for healthier life for me and others."
Krishna Pal Singh Jaat is AB negative. A rare blood group. He knows the fact that he can save others, he understands and acts upon it. Whenever needed he's been there like a loyal friend. He mentioned an old anecdote, "I was watering my fields, in Bharatpur, Rajasthan, when i received a call from Indian Red Cross that someone needed my blood to survive, in two hours i was at the National Headquarters, New Delhii. Thanks to my motorcycle that drove me here".
Mr Ujjwal Kumar and Mr Dinesh both with O negative, rare blood groups on request from the Indian Red Cross was rushed to a city hospital to donate blood for a rushed transplant at midnight. Time and distance cannot be a deterrent for any of our volunteers. World Blood Donor Day was an apt moment to salute these volunteers who has always been a friend in need. Infact , two sentences that encapsulated the spirit of the occasion was when Mr Pawan Diwan thanked Indian Red Cross " Indian Red Cross provided blood that saved my sisters life, when she was in need and i would be their friend forever indeed. The last but not the least are the sublime words advocated by Dr Agarwal "Let not a drop of blood be wasted in violence, but be used to save a life."
Mr Pawan Diwan says, " Its an enduring relationship with the Indian Red Cross. Indian Red Cross blood saved my sisters's life".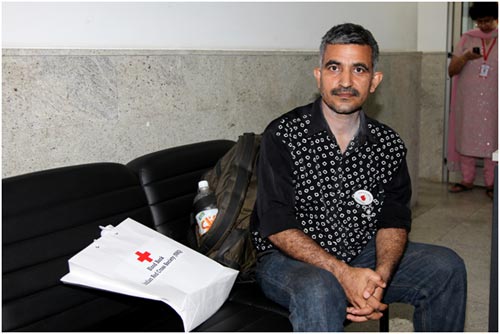 Krishna Pal Singh Jaat, Indian Red Cross Volunteer.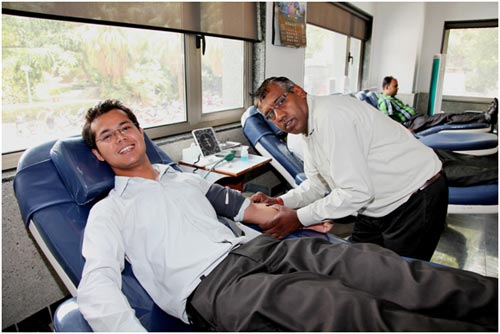 A busy day on World Blood Donor Day at the Indian Red Cross Blood Bank, NHQ. " This is my first blood donation, I feel great , I will save a life.
Excerpts from speeches of the Honb'le Chairman, IRCS and Head , SARD, IFRC.

Shri Ghulam Nabi Azad- Chairman, Indian Red Cross.
Union Minister of Health & Family Welfare.
World Blood Donor Day. 14th June, 2012.

I congratulate the Indian Red Cross for attainment of ISO certification for quality management from the BIS. It's indeed a pleasure to let you know that after persistent efforts Ircs has also obtained Income tax exemption.

On the auspicious Occasion of "World Blood Donor Day", we applaud our superheroes who have donated blood for more than seventy five times. We wish that we have more superheroes like this to encourage the rest. In early eighties we had scores of people coming forward for blood donation. But unfortunately we didn't have the capacity. Today we have upgraded the facilities, but we are falling short of donors. We need to make it happen again, we need to dedicate more days to celebrate 'World Donor Day and our blood donors. To encourage our youth to come for blood donation we need to make our citizens believe that blood donation is safe and an innovative way to adopt a healthy life. I would like to congratulate the Secretary General for taking the organisation into newer heights. I deeply thank and congratulate the super heroes who donate blood regularly for strangers they have never seen. Its easy to donate money and other worldly possessions but to donate blood running deep in ones veins, one needs to hold great love for the country and humanity.


Shri Azmat Ullah, Head of South Asian Regional Delegation.
World Blood Donor Day. 14 th June, 2012

The average donation rate in developed countries is about 45 to 150 donations per thousand populations as compared to 10 per thousand in transitional countries and 3.6 donations per thousand populations in developing countries. It is understood that if 1 percent of countries population donates blood it would be sufficient to meet the countries need of blood for transfusion. But donation rate is less than one percent of the population in 77 countries. India with its massive population of 1.22 million require blood of 12 million units of blood annually. The average donation in India is above 9 donation per thousand population that is 9 million units per year. Ideally if 1 % of the eligible population donates blood annually there will no scarcity of blood. In 2004 the International Federation of Red Cross and Red crescent societies together with the World Health Organisation launched the World Blood donor day on 14th of June every year to draw peoples attention to the issue. This year the theme is "Every blood donor is a Hero." In the last 5 years attention has been focussed to increase the voluntary blood donations which has made a lot of progress. However there is more to do.

We should work with zeal and commitment towards achieveing 100 percent voluntary blood donations. Lets introduce the Blood programme with a realistic logframe and a timeline. This require a larger budget so the cadre of volunteers can be supported by professional staff and to focus on innovation and community based activity rather than overt reliance on promotional events. The Red Cross and Red Crescent is supportive of community based activity. Finally the National blood donor programme requires development of National Blood donor registry so that information about blood donors can be shared between the health and civic centres.
Finally i would like to recognise and thank all the organisations who work toward voluntary blood donation. I thank all the existing blood donors, all are life savers. We need more life savers, we request you to donate blood regularly and save a life.