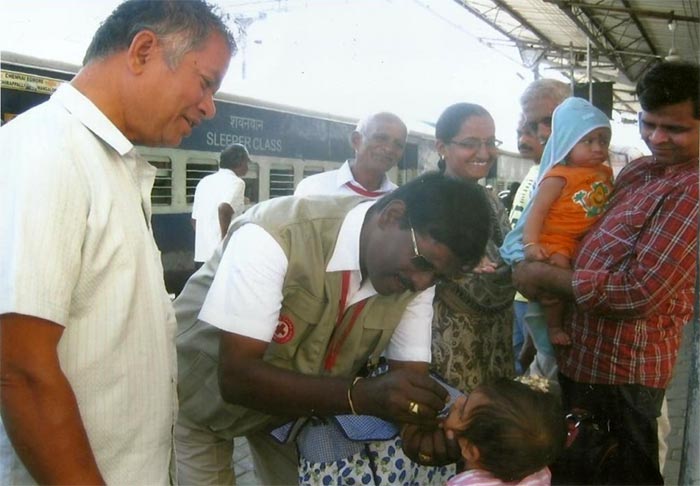 India is now a Polio Free country. From over 2,00,000 cases of Polio per year upto 1985, India is now officially Polio-Free; no new cases have been reported since 13th January, 2011.A function to commemorate the landmark achievement of Polio Free India was held at New Delhii's Talkatora Indoor Stadium on 11th February, 2014.
| | |
| --- | --- |
| India celebrates being Polio free at a function organised by the ministry of Health and Family Welfare | President Pranab Mukherjee, Prime Minister Dr. Manmohan Singh, Union Minister of Health & Family Welfare Ghulam Nabi Azad and World Health Organisation (WHO) Director General Margaret Chan were among those present on the occasion. The celebration was organized by the Ministry of Health and Family Welfare to commemorate this accomplishment as well as to thank all those who contributed to it. |
On January 13th, the World Health Organisation had tweeted, "Congratulations India, 3 years have passed since India's last case of wild Polio." Indeed a coveted achievement, for the world's second most populous country, and it paves the way for the whole of the South-East Asian region to be soon certified as polio-free. Of the 9 polio cases reported in 2014, 7 are in Pakistan and 2 in Afghanistan. India's march towards being declared completely Polio Free is now closest to the finishing line as the expert committee of WHO will meet in New Delhii on March 26-27 to officially certify the country polio free.
| | |
| --- | --- |
| The journey has been arduous and long, and would not have been completed without the unending support from partners like the Indian Red Cross Society, which is auxiliary to the Government and aides it with all its might. | Red Cross volunteers administer OPV vaccine to children in Uttar Pradesh |
Armed with able volunteers, the IRCS helped, by dissemination of information to the general public about the importance of prevention, control and elimination of the polio virus by administering the OPV vaccine to all children below 5 years.
| | |
| --- | --- |
| The states of Bihar and Uttar Pradesh posed the biggest challenge against Polio | The IRCS volunteers were unrelenting, and often roped in the community spiritual and religious leaders in their dissemination drives. |
The IRCS supplemented the local health authorities also in carrying out the polio vaccination drives at the grass- roots level. IRCS volunteers were even deputed to administer Polio drops at various Railway stations and entry points to various cities by road on National Polio Day every year.
| | |
| --- | --- |
| The Society through its hospitals, health centres and Balvikas Kendras of Maternity and Child Welfare (MCW) programme, reached out to administer polio drops to needy children between the age –group of 0-5 not only at its centres but also in households in Uttaranchal. | Volunteers were present at railway stations to administer OPV |
Since the launch of the 1988 Global Polio Eradication Initiative to eradicate polio, 5 million people - mainly in the developing world - who would otherwise have been paralysed, now have no threat. Caution still needs to be taken and the Indian Government has made the Polio vaccine mandatory for people travelling to or from the seven Polio endemic countries including Pakistan, Afghanistan and Nigeria, with effect from March 1.They will have to take Polio drops four weeks before their travel. Dissemination and efforts will have to continue so that there are no further infections, and with partners like the Red Cross, the work for the Government is certainly smoother.