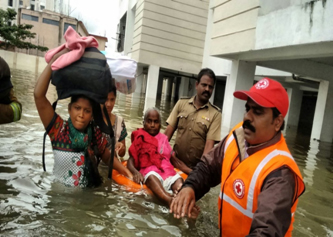 The Indian Red Cross Society is scaling up relief efforts after floods in Andhra Pradesh, Karnataka and Tamil Nadu that have affected over 2 million people. The aid effort is being supplemented by nearly Rs 2 crore released from the disaster relief emergency fund of the International Federation of Red Cross and Red Crescent Societies on Monday.

"Red Cross staff and volunteers have been helping people affected by the floods in Andhra Pradesh, Karnataka and Tamil Nadu," Indian Red Cross Joint Secretary Dr Veer Bhushan said today.

The local Red Cross branch volunteers and staff are helping in evacuation of people from their homes, given first aid, water bottles/pouches, chapattis/other cooked food to them who have taken refuge in schools, places of worship or community centers. In the temporary shelters gas stoves and dry ration is also being supplied.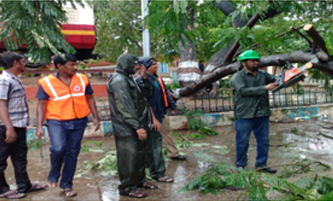 Topping up the efforts of the local branches the IRCS NHQ released non food items to support 1000 families in TN and are further releasing similar items to support 2500 families in Tamil Nadu and Andhra Pradesh. The trained first medical responders (FMRs) and Red Cross volunteers, numbering over 500, have been mobilized for evacuation, providing relief and other response services in their areas of operation. The other relief items include family packs, cotton blankets, dhotis, sarees, cooking pots, sleeping mats, tarpaulins and mosquito nets.
The Tamil Nadu branch at Chennai is running a 24 hour emergency response centre. Calls are received for evacuation, medical aid, food supply and clearing of roads due to tree/electric pole falls all over the city. Red Cross teams in close coordination with the fire & rescue department and Municipal Corporation are attending to the emergency needs of the affected population.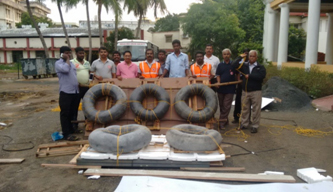 Red Cross has also been preparing and using temporary rafts for navigation in flooded areas.
The non food items have been released from the Arakonnam warehouse, near Chennai, from the disaster preparedness stocks. Salt Lake (Kolkata) and Vikhroli (Mumbai) warehouses are ready with additional supplies of non food items for immediate transportation.
The national headquarters has also offered to provide solar lanterns which are available in its warehouses.
A Water Purification Unit (LMS) with the capacity of 4000 litres per hour stationed at Arakkonam has been readied for providing potable water. More units shall also be sent to the areas as per needs of the people. Dr Veer Bhushan added "Based on our quick assessment additional funding is being generated that will allow the Red Cross to reach out to 17,500 of the worst affected people, especially those displaced, with emergency shelter, household items, basic health care and safe drinking water."