The relief effort in Uttarakhand is being coordinated by the Uttarakhand State Red Cross having its headquarters at Dehradun. The Indian Red Cross Society, National Headquarters (IRCS, NHQ) is in constant touch with its state branch and monitoring the ongoing relief activities on regular basis.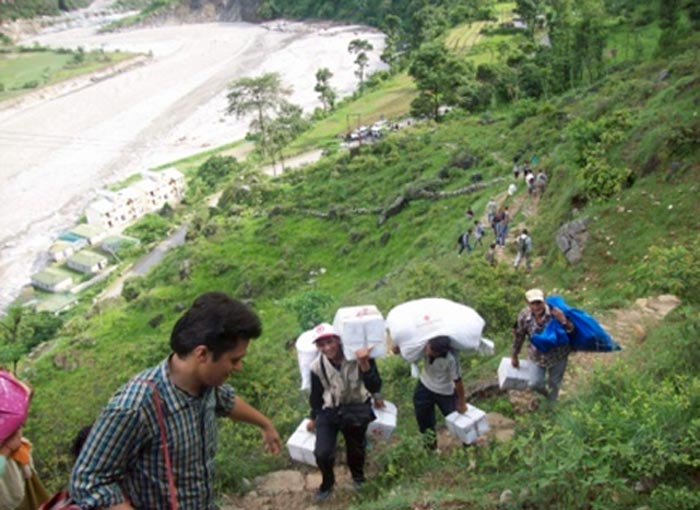 Relief Material being transported on Foot to Remote locations, which have been cut off due damaged roads
Relief materials for the flood affected victims in the form of non-food items which were earlier flagged off by Shri Ghulam Nabi Azad, Hon'ble Chairman (Hon' ble Minister of Health & Family Welfare, Govt. of India) has already reached the flood affected districts of Uttarkashi, Rudraprayag, Chamoli, Pithoragarh and Pauri. These relief materials are being distributed through Red Cross volunteers and First Medical Responders of Uttarakhand State Branch in consultation with the local administration.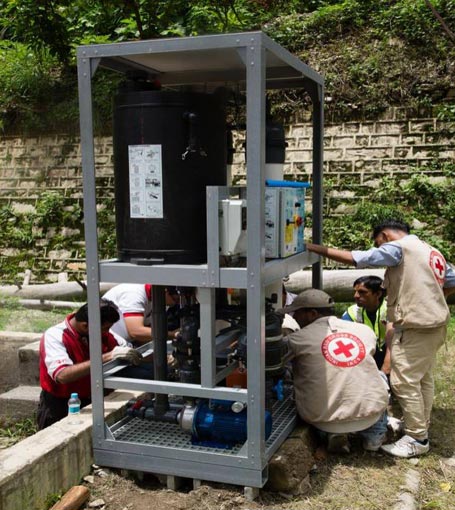 IRCS NDWRT Team Members Setting up NORIT Water Purification Unit in Uttarkashi
IRCS (NHQ) have sent 3 water sanitation machines (NORIT) and 3 manpack units for deployment in the affected locations. These machines have been installed by the National Disaster WatSan Relief team (NDWRT) members of the NHQ and state Red Cross branch in consultation with local administration at Uttarkashi, Rudraprayag and Phata. Each machine is providing 2000 litres of safe drinking water per hour, to the local population at these locations.
Further, water is being sent to distant villages by plastic containers. The NDWRT members have also provided advocacy on sanitation and hygiene promotion to school children and local villagers.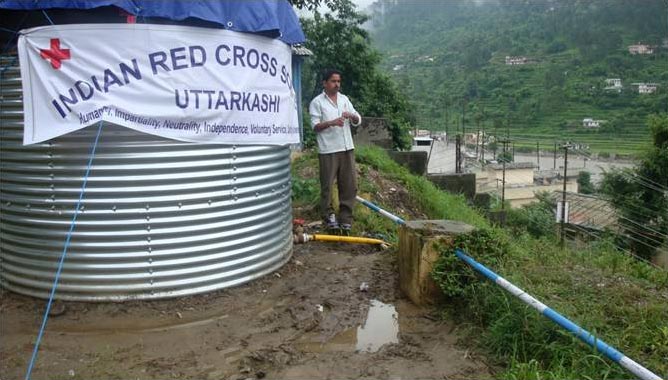 Water Storage Tanks installed by IRCS / NDWRT members
Further, two of the three manpack water sanitation units have been made operational in Dharchula Block, Pithoragarh district and the third one is being used in Rampur, Phata of Rudraprayag district. These manpacks are being carried by Red Cross volunteers and each unit is providing approximately 80 litres of potable water per hour to the needy.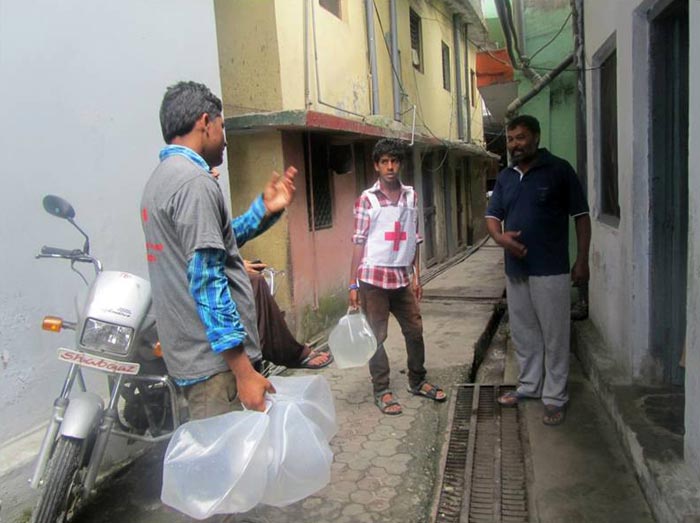 Door to Door distribution at Uttarkashi
Baluwakoat is about 82 km from Pithoragarh. 36 family have taken shelter in a government school hostel. The Kali river washed away their houses and belongings on 17th June. The Govt. is providing dry ration to them. Red Cross has given them kitchen set, kerosene stove, blanket, bucket and tents. One hand operating water purification machine is in this camp and people are using this machine for drinking water.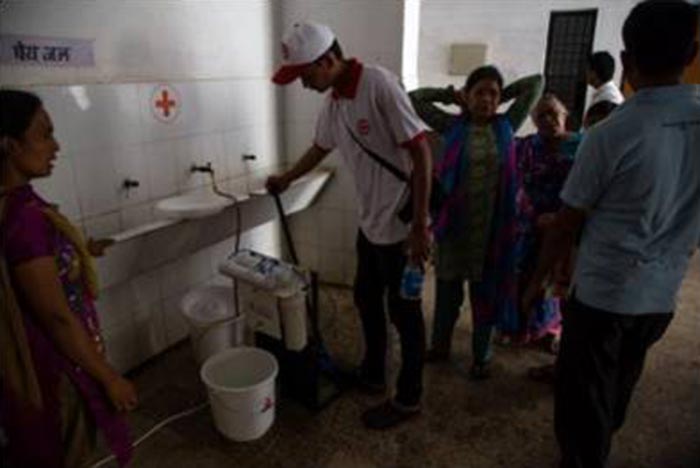 Training community members to use water purification machine at Baluwakote camp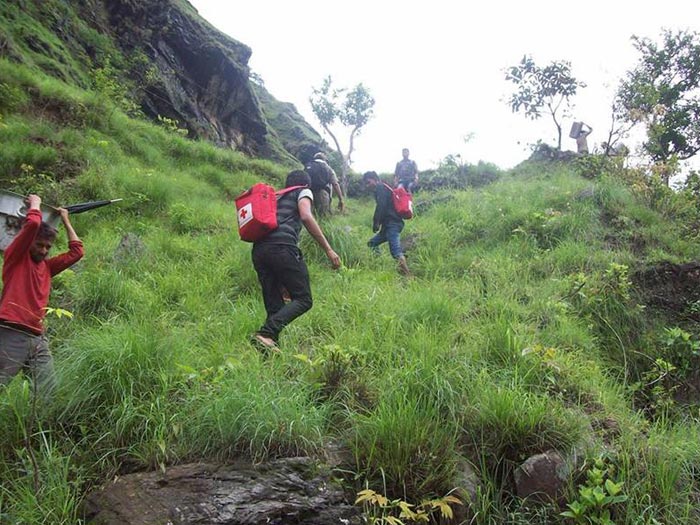 IRCS FMR Teams Enroute to a Remote Village
IRCS (NHQ), in collaboration with the Uttarakhand State Red Cross branch, is undertaking Family News Service (for tracing missing persons) in the affected areas. Trained volunteers have already been deployed for facilitating reunion of the families. 173 tracing requests have already been obtained from the family members stranded at Kedarnath valley, Rudraprayag, Gaurikund and Chamoli and trained FMR (First Medical Responders) volunteers are working closely with the local government hospitals and police stations for collecting information of missing persons.
Apart from this, tents dispatched earlier from IRCS (NHQ) are being pitched, with the help of trained First Medical Responders in the affected areas. A Red Cross camp with 47 tents has been set up at Joshiyara in Uttarkasi district. Separately, 11 tents have been pitched in Chamoli district and 120 tents have been distributed to homeless families in Rudraprayag and Pithoragarh.
For ongoing relief operations for assistance to the affected population in the state, IRCS (NHQ) is receiving donations from its international partners within Red Cross Movement (IFRC, Partner National Societies etc) as well as from philanthropic organisations and individuals.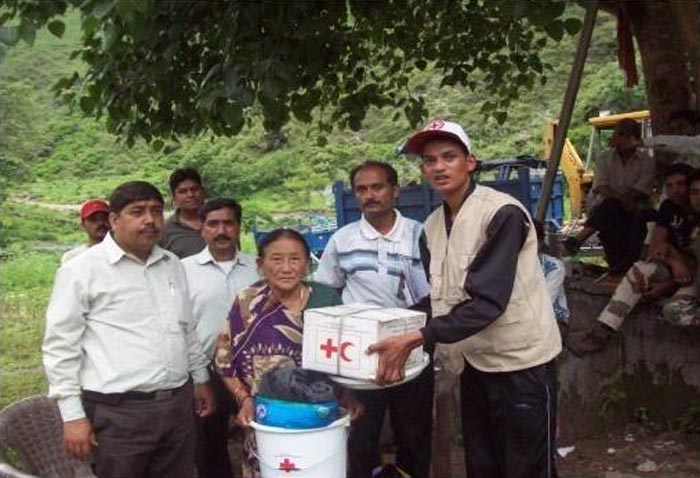 Relief distribution at Nayabasti, distt. Pithoragarh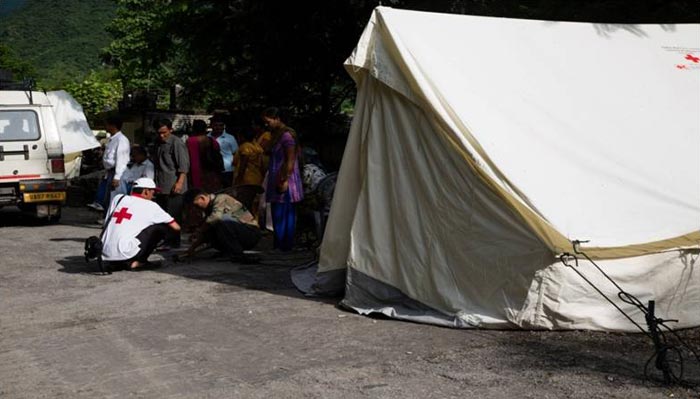 Tent being pitched in Nayabasti, distt. Pithoragarh
Naya Basti, District Pithoragarh - This village is situated near riverbank of Kali river in this village. 17 families lost their houses. They have taken shelter on the road in tents given by Red Cross and govt agency. 7 Red Cross Family Tents were pitched there and families were residing into them.Almost all affected family got Red Cross relief items.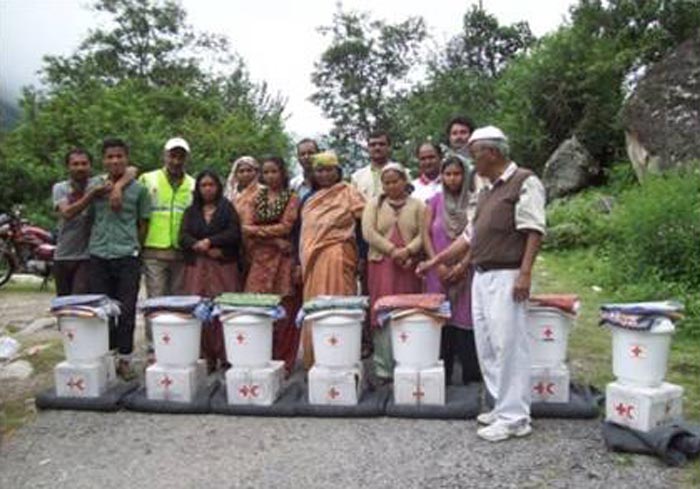 Relief distribution at Gothi Village, district Pithoragarh
Village Gothi, district Pithoragarh
- 14 families lost their houses. This place is not accessible by road. Red Cross has provided kitchen set, stove, blanket, mosquito net, towel, bed sheet, bucket and dhoti to all affected family. NDWRT team was accompanied by CFMR Jeevan Thakur. He said that on 18th June he and other CFMRs travelled 16 km by foot and reached upto Gothi, distributed relief material to affected, provided first aid to needy and helped evacuate people who were stranded.