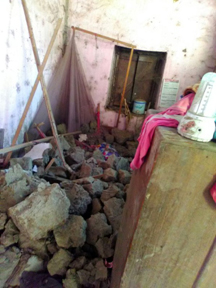 A powerful 6.7 magnitude earthquake, rocked remote north-eastern regions of India before dawn today at 4:35 am while many people were still in bed. The epicentre of the quake was in Nune village in Tamenglong district of Manipur state about 40 kms from the capital Imphal. Frightened people rushed into the streets in the darkness.
Indian Red Cross Society staff and volunteers, including the First Medical Responders , in coordination with public authorities, helped evacuate injured people from damaged buildings, gave first aid and are now assessing what other help is needed.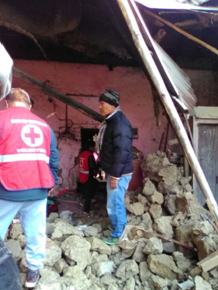 Dr. Y. Mohen Singh, the secretary of the Manipur state branch of the Indian Red Cross Society , helped evacuate injured people from a market in Imphal. About sixty houses are reported to have collapsed at the epicentre and another ten in the capital city. The quake has reportedly killed more than eight people and injured more than 100. "People are understandably panicky," said Dr Singh, whose team is now giving people advice on staying safe.
"Unfortunately many people were injured by falling debris so we recommend staying away from buildings if there are aftershocks. We are also advising people not to stay in their own houses if the houses are badly damaged."
Indian Red Cross Society Joint Secretary, Dr Veer Bhushan said headquarters in New Delhi is sending tents and kitchen sets to Manipur from its warehouses in Kolkata and Guwahati . More supplies and disaster experts will be sent depending on further assessments. A Water Purification Unit with an hourly output of 3000 litres is already placed at Imphal for deployment if needed. "The earthquake struck in a hilly location so we expect it will take a few days to get a full picture of the damage "he said.