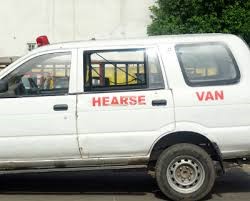 Tamil Nadu state branch of IRCS with the support of the State Government introduced hearse service in 2011. The neediest were the daily wage earners in Tamil Nadu from across the country and also from the neighboring countries. This was necessitated as poor families were forced to pay anywhere between Rs 5,000-60,000 to get their dead home. In some cases worker's closest relative would abandon the body in the mortuary.
In June 2017 an IRCS van covered over 2,000-kilometres to deliver the coffin of a Bangladeshi daily wage earner, Mohammad M D Noor, who died in a Chennai hospital due to illness.
Ayyappan, the Red Cross driver, has numerous such stories to share. Noor's family is among the whooping 4.4 lakh who had to bear the pain of their kin's death. But, courtesy Tamil Nadu Red Cross and government's free hearse service, the families of the deceased people were fortunate enough to give them a dignified cremation or burial — a luxury for many daily-wage earners who come to Chennai. The entire project costs the state around Rs 13 crores a year.
Witnessing grief can sometimes be as painful as experiencing personal loss. Hearse drivers engaged by the Red Cross are constantly counselled to overcome this. The drivers deal with difficult situations, like in the 2015 red sanders case (20 woodcutters from TN were killed in an encounter), where the bodies had undergone multiple postmortems. It was traumatic for them to see the families when they opened the coffins. In another instance 10 workers were killed as an effluent tank collapsed in Ranipet. Some of Red Cross volunteers accompanied the bodies all the way to West Bengal, while some were driven to Bihar and Odisha. Although the bodies were embalmed, the drivers could smell the chemicals long after.
Nevertheless, this gesture of the Government and the Red Cross is indeed, a noble one.