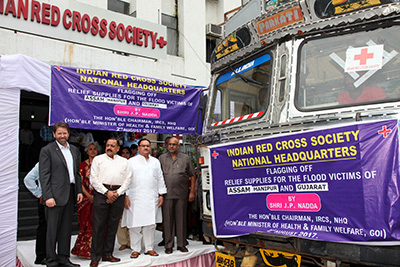 Shri J P Nadda, Minister for Health & Family Welfare and Chairman of the Indian Red Cross Society released relief supplies for flood affected states of Assam, Gujarat and Manipur today i.e. 2 August at 1.00 pm from the IRCS Headquarters. Speaking on the occasion Shri Nadda said, "To supplement the ongoing relief operations by the Assam, Gujarat & Manipur state branches, IRCS, NHQ, based on the request of the branch and assessment of the needs and situation is releasing relief items worth Rs Rs.3,12,65,290. A team consisting of the IRCS, IFRC and the ICRC travelled to the affected areas and had recommended launching of Disaster Relief Emergency Funds (DREF) by the IFRC.
Appreciating the quick response of IRCS volunteer force consisting of National Disaster Response Team and Social Emergency Response Volunteers, Shri Avinash Rai Khanna, Vice Chairman of IRCS said, "We are keen to train and empower Red Cross volunteers so that they respond to any emergency in any community in the country. Their services are essential for the continuation of relief work in the flood affected states."
Due to floods in Assam approximately 1.7 million people have been affected in 24 districts and over 75 lives have so far been lost. Also, four districts in Manipur are also badly affected. As per the estimates reported by Manipur State Department of Relief and Disaster Management, approximately 3000 families, 27000 livestock are affected. In Gujarat 3 districts are experiencing massive flooding where over 200,000 people are affected. The State Red Cross Branches through their volunteers had initiated immediate response by providing relief supplies to the above said disaster affected community from their existing stocks. Further, Indian Red Cross Society, National Headquarters also released relief items from its prepositioned stocks for response operations in Assam. This included 600 mosquito nets, 600 kitchen sets, 600 tarpaulin pieces, 300 towels, 600 dhoties for men and 300 sarees for women, 600 cotton blankets, 600 bed sheets and 8000 buckets.
From the IRCS Nhq ware house at Viramgam, Ahmedabad, family packs valued at over Rs 25 lacs was released which together with the state branch resources has assisted more than 4000 families.
Now the IRCS National Headquarters has released mosquito nets, kitchen sets, tarpaulins, cotton blankets, bed sheets, aqua plus water purification units along with water storage tanks, chlorine tabs and bleaching powder, solar lanterns and assorted clothes to Assam. The consignment for Manipur includes mosquito nets, kitchen sets, towels, cotton blankets, bed sheets, temporary toilets, aqua plus water purification units along with water storage tanks, chlorine tabs and bleaching powder, alum & lime, solar lanterns, soap & sanitary napkins and assorted clothes. Similar supplies are earmarked for Gujarat as well.