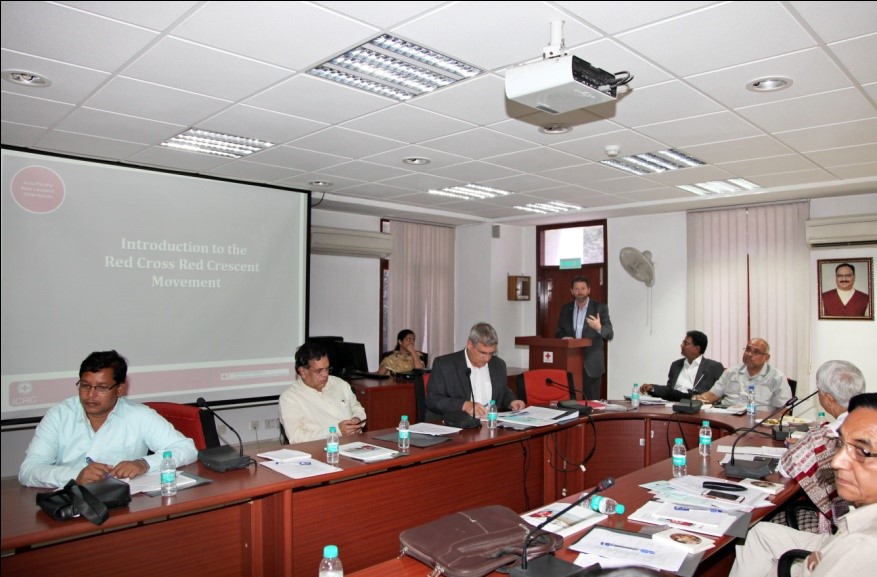 IRCS, NHQ hosted a two-day induction programme for the Managing Body members which included the recently elected 12 members as well as the 6 Presidential nominees. Twelve members were elected from the four zones in the elections held on 28 of July, 2017 as per the IRCS Act and Rules, as amended from time to time.
The Induction Programme was inaugurated by Shri Avinash Rai Khanna, who solicited the cooperation of all the members in ironing out the issues faced by the Society and devise ways to make the Indian Red Cross more relevant and contemporary. He welcomed the newly elected members and shared his experiences of the visits made by him to the State and Union Territory branches. He expressed his keenness to make the Managing Body meetings more fruitful and useful for the community.
Head of the ICRC Regional Delegation, Mr. Jeremy England and Head of the IFRC Country Cluster, Mr. Leon Prop were the main facilitators of the programme. Dr. Mukesh Kapila, former Under Secretary General of the IFRC and voluntary consultant for the IRCS National Society Development Plan for India was also present. In his address he said, "One prime responsibility of the governance is that you must ensure that all branches are looked after without any favors".
The speakers, during their presentations, provided the insight to the members on the intricacies of the governance and methods to provide good leadership to a National Society. They also shared their experiences of several other National Societies where such inductions are organised on a regular basis.
Mr. Manish Choudhary, Acting Joint Secretary, informed that such an induction programme was earlier held about 14 years ago. He said that it was felt that the members of the Managing Body of the IRCS would be benefitted if they are well aware of the national and international statutes, rules and code of conduct.
The members expressed their happiness on this opportunity and promised to take the Society from strength to strength through their active participation and commitment.