Recently, Indian Red Cross delegation consisting of Mr Avinash Rai Khanna, Vice Chairman and Mr Manish Choudhary, Joint Secretary participated in the International Federation of Red Cross and Red Crescent Societies (IFRC) General Assembly – the highest decision making body of the 190 member Federation. The agenda of the Assembly is designed to discuss all the important matters concerning the RCRC Movement.
Every four years during this event the member countries elect the IFRC President, Vice Presidents and the members of the Governing Board. The elections were due this year in which the President of the Italian Red Cross, a lawyer and a great humanitarian "Francesco Rocca" was elected as the new President.

This year's General Assembly began on 05 November, 2017 at Antalya, Turkey. The IRCS delegation shared information on its various programmes including its flagship SERV (social emergency response volunteer) volunteer programme which is simultaneously being run in 19 states.

The other interventions of the IRCS leadership were on nurturing the commitment of the volunteers, the concept of accountability and transparency of the volunteers and a universal action plan on strengthening the spirit of volunteerism throughout the Red Cross movement.

Sh. Avinash Rai Khanna, VC (IRCS) at the General Assembly participating in an interaction.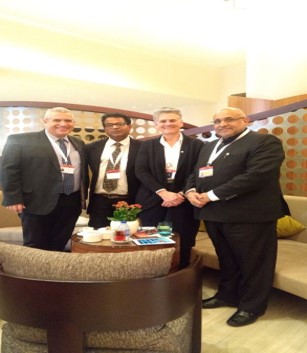 It was mentioned by the IRCS delegation, "We would be completing 100 years of our existence in India in 1920 and the Red Cross community should share the ways IRCS should observe the centenary celebrations to make it a historical event."

The IRCS Leadership took this opportunity to hold side meetings with the Canadian, Isareli and Irish national societies, extending heart-felt gratitude for their past support and discussed the ways by which future partnership could be planned. Canadian Red Cross projects in Tamil Nadu and Andhra Pradesh and the Irish Red Cross supported Tuberculosis project have been success stories for the Indian Red Cross.

During the South Asian leadership meeting, the Indian contingent got an opportunity to meet the delegations from Pakistan, Afghanistan, Nepal, Bhutan, Maldives and Sri Lanka. In this regional meeting issues relating to the region, including the challenges, were discussed. The leaders committed themselves to fruitful dialogue by assessing the common grounds of growth and opportunities like "fund-raising, self-sustainability, women empowerment and capitalizing on the power of Youth". Further stress was laid on developing regional networks.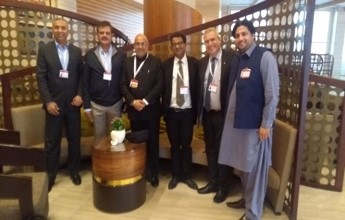 Sh. A R Khanna and Sh. M Choudhary with South Asian Delegates
and head of the IFRC for the IFRC country cluster, Mr Leon Prop.