President of the Italian Red Cross Mr Francesco Rocca accompanied with Ms Emilie Goller, Advisor visited India from 27 – 29 August 2017. They had a meeting with the IRCS Vice Chairman, Shri Avinash Rai Khanna, on 27 evening. Mr Khanna briefed him about the activities and achievements of the Society. Mr Rocca assured IRCS Vice Chairman of all possible help to the Society as one of its long standing partners.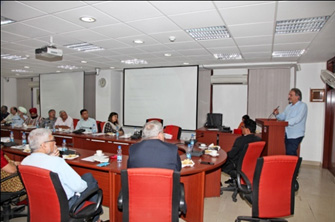 On 28 August the IRCS organized a meeting in his honour in which the IFRC Country Cluster head, Mr Leon Prop, former Under Secretary General of the IFRC and Voluntary Consultant for the Strategic Development Plan 2020 and Beyond, Dr Mukesh Kapila and officers of IRCS and ICRC participated.
The President also visited Central Training Institute and Central Warehouse at Bahadurgarh. "Mr Rocca has assured IRCS of Italian Red Cross support to make the training institute operational,' said Mr Manish Choudhary after the visit.
The Italian Red Cross President also interacted with the State/UT Branch Secretaries on 29 evening, who had come to Delhi to attend the Secretary's Conference on IRCS Strategic Development Plan.