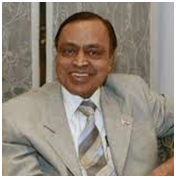 Shri Murli Deora
(1937 - 2014)
Shri Murli Deora, the former Vice Chairman, Indian Red Cross Society & former Vice President of International Federation of Red Cross & Red Crescent Societies passed away on 24th November 2014 in Mumbai.
An economics graduate, Shri Deora, a sitting Member of the Rajya Sabha for the 3rd term, was Mayor of Mumbai from 1977 to 1978; he had earlier served as the Mumbai Congress President for 22 years and later was elected to the Lok Sabha for four times. He had also served the country as the Minister of Petroleum and Natural Gas as well as the Minister of Corporate Affairs in Govt. of India.
Murli Bhai, as he was known, was also a highly respected figure in the humanitarian field of the Red Cross and Red Crescent Movement, both nationally and internationally. He had shown great passion in caring for others with the Indian Red Cross as Vice Chairman and was actively involved during the Gujarat earthquake in 2001 and later with the Indian Ocean Tsunami in 2004. He also initiated the set-up of a global HIV/AIDS funding consortium in the Headquarters of IFRC in Geneva.
In his service to the Red Cross both nationally and internationally, Shri Murli Deora was a man of passion, a true gentleman and brought help to many thousands who suffered in calamities.
The entire Red Cross & Red Crescent Movement family expresses its deepest condolences to the Deora family on Shri Murli Deora's sad demise. Red Cross Movement have lost a veteran humanitarian activist and an experienced administrator.
May his Soul rest in peace.