Red Cross collaborates with NALSA in organizing Judicial Colloquium for the survivors of trafficking and HIV/AIDS
The Indian Red Cross Society is actively involved in addressing HIV/AIDS through youth peer education, promoting safe blood collection, care and support of HIV+ people and anti-stigma initiatives in the States of Andhra Pradesh, Maharashtra, Tamil Nadu, Karnataka and Uttar Pradesh.
Dr. S.P Agarwal, Secretary General, IRCS led the Indian Delegation and participated in the Judicial Colloquium for Development of Policies and Programmes, for North-Eastern Region mandating Social Justice and Equality, for survivor of trafficking and HIV/AIDS.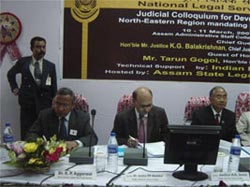 The colloquium was organized on March 10th-11th at Assam Administrative Staff College, Khanpara, Guwahati by the National Legal Services Authority (NALSA) in collaboration with Assam State Services Legal Authority. The technical support was provided by IRCS.
NALSA was constituted under an Act for providing legal aid and assistance. It aims to ensure that even the weakest amongst the weak in the country do not suffer injustice on the part of State or the Private Person. It has a nationwide network.
The NALSA meet at Assam attracted 250 participants from all walks of life. It had dignitaries from the Judiciary, AIDS Control Society, Government Organizations and from the Red Cross. The Chief Guest was Hon'ble Justice Mr. K.G. Balakrishnan, Chief Justice of India & Patron-in-Chief, NALSA. Some dignitaries who marked their presence were Shri. Tarun Gogoi, Chief Minister, Assam, Justice H.K. Sema, Judge, Supreme Court of India, Justice P.P. Naolekar, Judge Supreme Court of India, Justice M.K. Sharma, Chief Justice, Delhi High Court, Justice Dinendra Biswas, Acting Chief Justice, Guhawati High Court and Patron-in-Chief, Assam State Legal Services Authority, Justice P.G. Agarwal, Executive Chairman, Assam State Legal Services Authority.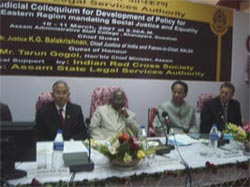 Issues like Legal and Social responses towards rehabilitation of the survivors of trafficking and HIV/AIDS- need for reforms in the legal framework and law enforcement, HIV/AIDS-No longer a challenge to medical science, Combating trafficking and HIV/AIDS in the region-need for Regional, National and International Collaboration and need for sensitization, education and awareness for securing, equality and social justice for survivor of HIV/AIDS and trafficking were discussed in the open house.
Dr. S.P Agarwal, Secretary General, IRCS during his address mentioned "We can together work in many areas specially related to victims of trafficking, HIV/AIDS and disaster victims. For example, while the IRCS is providing assistance to tsunami victims by providing boats, nets, crèches for children and psycho-social relief, NALSA can help in the legal issues related to the victims". He also said that "We can jointly conduct campaigns to raise awareness of the Society on the rights of HIV+ patients and disaster affected victims".