Click here for list of IRCS Blood Banks
For any blood services query call us at our 24/7 control room - Ph: 011-23359379, 9319982104, 9319982105
Click here for Blood Donation Camp Schedule
Individuals are not at risk of contracting COVID-19 through the blood donation process. Blood  Bank  is taking all precautions for the staff, Blood Donor and patient attended by using thermal scanners, disinfectant cleaning of couches, gloves, masks, maintaining distance etc.
With the Centre, declaring blood services as essential services, IRCS will start holding blood donation camps by sending mobile blood collection units to various localities across Delhi from 13 April, 2020. IRCS, NHQ will follow all infection control and social distancing measures such as two couches instead of the earlier practice of four to draw blood. There will be at least 3 metre gap between the two couches and at one time there will be no more than three people allowed in the camp. The vans will be disinfected on a regular basis. Click here to request for blood donation camp
| | |
| --- | --- |
| | |
| | |
| Blood Donation Camp - Ashok Vihar Phase 1, Delhi | 13-15 April, 2020 |
Five Reasons Why You Should Donate Blood
1. Development of new red blood cells
Within the first 48 hours of blood donation, the donor's body starts replenishing the lost red blood cells. The replenishment process helps in staying healthy and productive at work.
2. Reducing risk of heart disease
As per several studies and reports, when there is a rise in the iron level in blood, it raises the chances of heart diseases. People should donate blood from time to time in order to reduce the iron level in the blood.
3. Burns calories
Donating blood can burn approximately 650 calories for each pint that is like 450 ml of blood.
4. Free blood test
On donating blood, the donor receives a free mini health screening and blood tests.
5. How often can one donate blood?
The minimum time advised between two donations is 3 months. This gap helps blood regain the normal haemoglobin count.
Who can donate blood
The age of the donor must be above 18 years and below 60 years of age. He/she must have a haemoglobin count that is not less than 12.5 g/dl. The Weigh should not less than 45 kgs. One should have a normal body temperature at the time of donation.
You should always drink lots of water before the donation. Also, keep in mind that you should take a well-balanced meal prior to and after donating blood. This will keep you healthy and fit.
Transfusion of blood is an essential part of modern health care management. The first Blood Bank was started in India by Indian Red Cross Society (IRCS) in 1942 at All India Institute of Hygiene & Public Health, Calcutta (West Bengal).
In 1977, the blood bank started operating from the Indian Red Cross Society, National Headquarters (IRCS, NHQ). The Blood Bank is running round the clock and provides the services to the needy patients. It was designated as Regional Blood Centre by State Govt. in 1996 and has been designated as Model Blood Bank in 2010 by National AIDS Control Organization, Ministry of Health and Family Welfare, Govt of India and is also certified by the BIS for ISO 9001:2008 and accredited by NABH & NABL.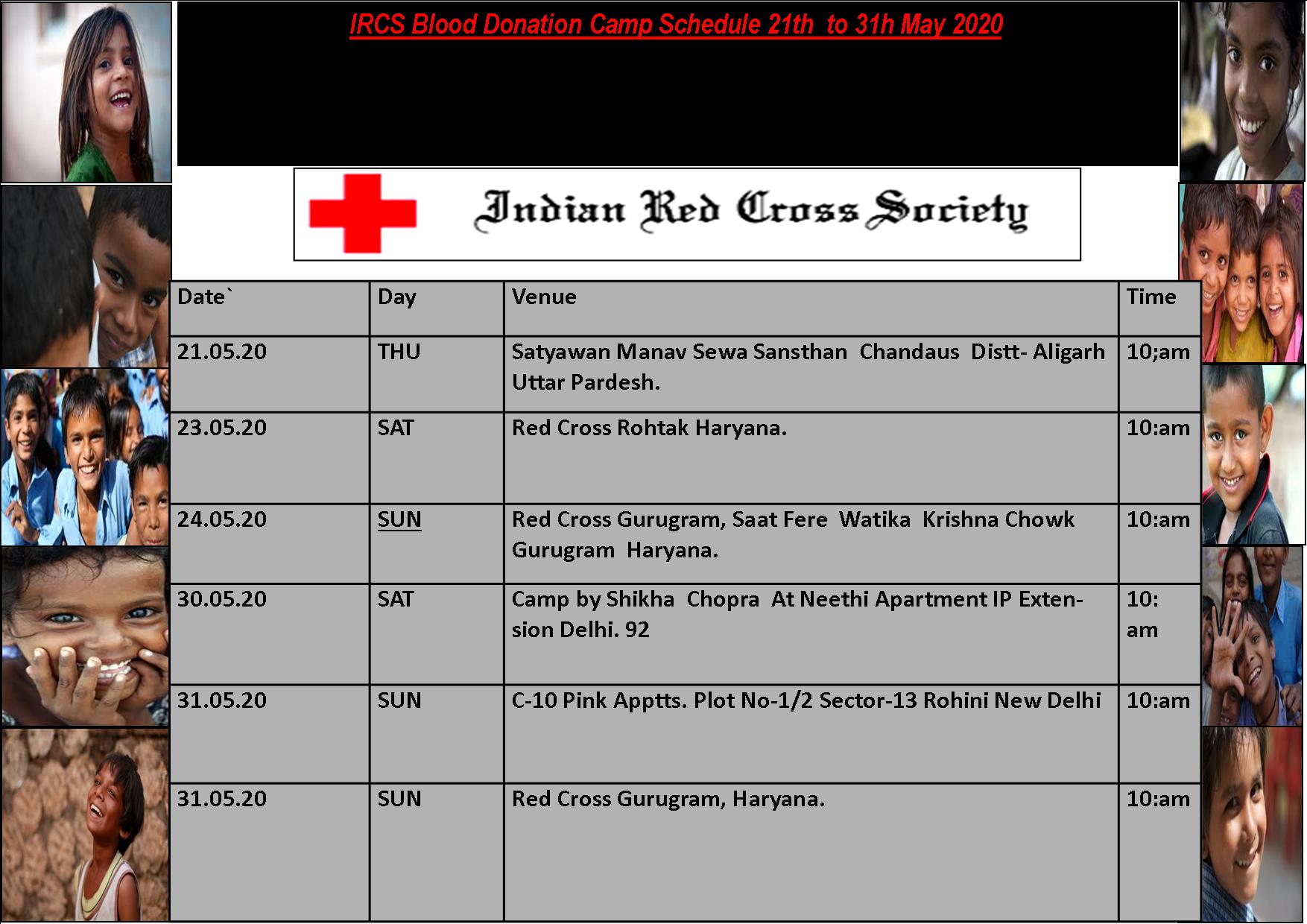 The NHQ Blood Bank focuses on encouraging voluntary blood donation. It collects approximately 25000 units of blood annually which contributes about 10% of the total blood collected in Delhi. The percentage of voluntary blood collection is above 90% in IRCS as compared to the 20-50% ratio of the total collection made by other blood banks of Delhi. The blood bank provides 90% of total collection of blood free of service charges to the patients admitted in the General Ward of Govt. Hospitals in Delhi as well as to 975 Thalassaemic patients registered with it (which is about 50% of all the Thalassaemics in Delhi).

The IRCS (NHQ) Blood Bank is fully equipped to collect blood at its premises and also has mobile teams, which go out frequently to hold Blood Donation Camps. The blood collected is tested for HIV I & II, HBs Ag, HCV, VDRL & Malaria. Blood grouping with Rh D and Antibodies Testing (three cell panel) is conducted by fully automated advance technology. To ensure effective utilization of blood, besides supplying whole blood, Red Cross also has the facility of component separation that provides different components of blood, like fresh frozen plasma, platelet rich plasma, platelet concentrate, packed cells, cryoprecipitate and platelet aphaeresis.
| | |
| --- | --- |
| | Mr. Rahul Sholapurkar Centurion blood donor New Delhi Secretary Delhi Chapter FBDOI donating blood at AIIMS New Delhi in August presence of Union Health Minister Dr Harsh Vardhan and Dr. Poonam Coshik HOD Blood Bank AIIMS. It was his 161st blood donation on October 01, 2019. His 160th blood donation was at Indian Red Cross Society, NHQ, Delhi on July 01, 2019 |
Organizing Blood Collection Camps in and around Delhi :
The Society is fully equipped to collect blood within the premises of the Blood Bank and also has mobile teams which go out regularly to hold Blood Donation Camps.  The mobile teams cover different parts of Delhi, Noida, Gurgaon, Ghaziabad, Faridabad, Bahadurgarh and even go to Pilani, Haldwani, Phagwara etc.  Blood Donation Camps are organized in schools, colleges and other places with the help of religious, social, political, commercial, and military / paramilitary organizations.
Highlights of major camps:-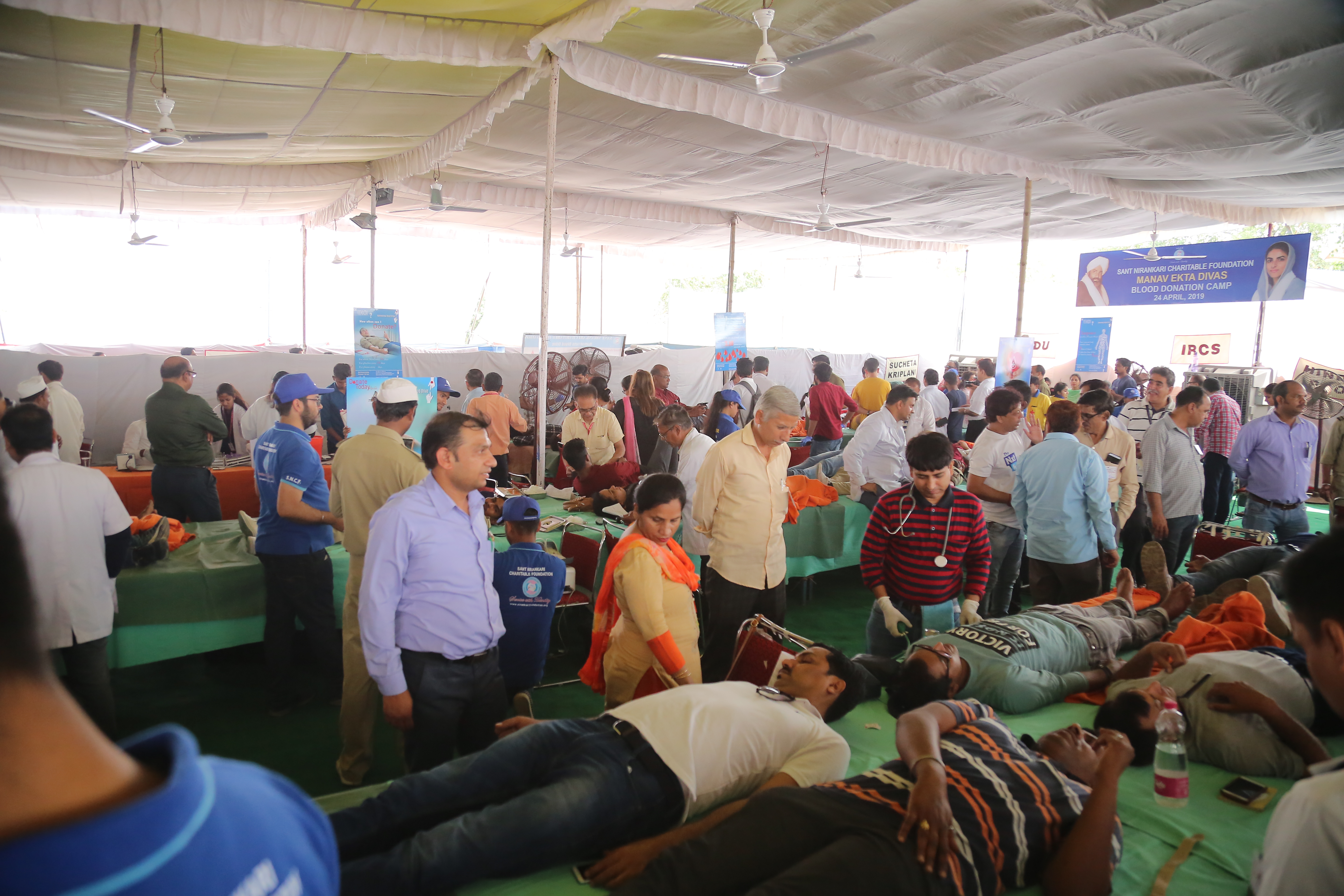 Mega Blood Donation Camp– 24 April, 2019
IRCS(NHQ), Blood Bank organized a Mega Blood Donation Camp on 24th April, 2019 to celebrate 'Manav Ekta Diwas' at Sant Nirankari Mandal , Bhurai where 1321 blood units of blood was collected from devotees of Sant Nirankari Mandal.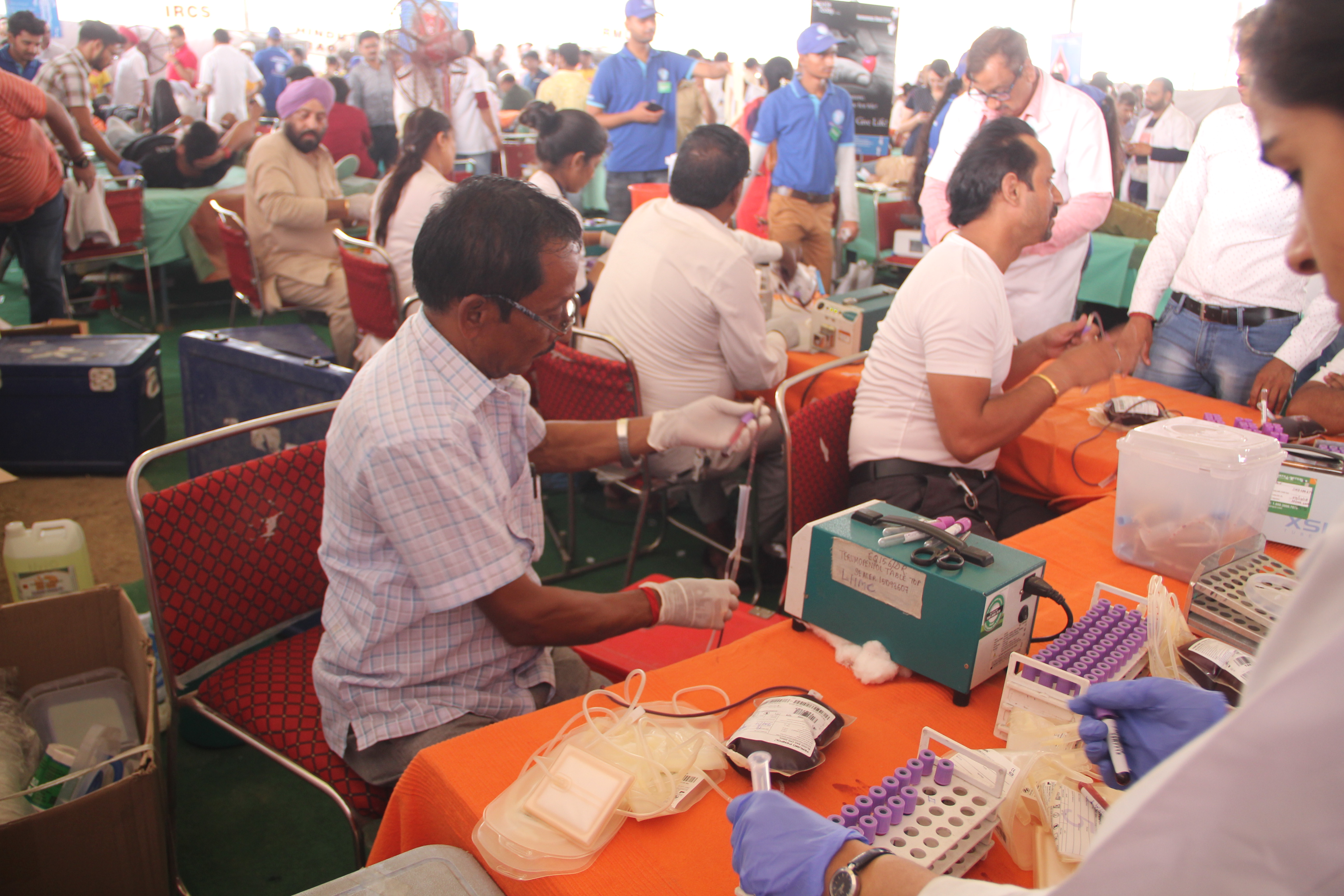 A blood donation camp was conducted under the leadership of IRCS(NHQ), Blood Bank and supported by different  Govt. hospitals of Delhi including AIIMS, AIIMS (CNC), Safdarjung hospital, DDU hospital, RML hospital, SSK hospital, Ambedkar hospital, Kasturba hospital, Sushrut Trauma Centre etc.
Different hospital contributed by providing manpower including doctors, technicians, staff nurse, counsellor, social worker, attendants. Some Thalassaemia parents also volunteered in the camp.
The aim of the organization is to phase out replacement donors and achieve 100% voluntary blood donation in future.

Union Minister Mr. Mukhtar Abbas Naqvi visited Indian Red Cross Society, NHQ, Delhi to donate blood on November 28, 2019
Blood Donor Screening  Processing & Storage of Blood
Donor blood is tested for infectious diseases (TTIs) such as HIV, HBs Ag, VDRL & HCV and blood group serology.  The screening of Transfusion Transmitted Infectious Marker (TTIs) is done by ELISA Method.
Blood Distribution
A.    In the year 2017-18, 51843 Blood/Blood components were prepared.  The total 24132 units of blood components were issued free of cost to the patients admitted in Government Hospitals, Thalassaemic and Hemophilic Patients.  8299 units of blood issued against processing charges to the patients admitted in Private Hospitals/ Nursing Homes.  

B.    Thalassaemia: In Delhi, there are about 2000 registered thalassaemic patients who are receiving blood from various Regional Centres like AIIMS, RML Hospital, Hindu Rao Hospital, LNJP Hospital, GTB Hospital and private blood banks. Out of which 975 patients are registered with Red Cross Blood Bank and more than 200 registered patients are from outside Delhi. IRCS continues to look after approx. 50% of the Thalassaemic patients in and around Delhi and provides Blood/Blood Components, to thalassemic patients and to the patients in Government Hospitals free of service charges.
Certificate of accreditation for ISO by BIS, NABH and NABL 
The IRCS (NHQ) Blood Bank has been certified by IS/ISO 9001:2008, NABH and NABL w.e.f 2012 and 2013. Routine surveillance audit for the accreditation has been conducted by the auditor team in 2017- 18 by BIS, NABL and NABH for renewal of accreditation.
External Quality Assurance Programme (EQAS):
IRCS (NHQ) Blood Bank has been enrolled with SDMH, Jaipur, (BEQAS), CMC Vellore, AIIMS and Bombay Red Cross for proficiency for infectious marker and serology testing.
Related Resources
-Prof Philippe Vandekerckhove, Global Advisory Panel (GAP) President, CEO, Belgian Red Cross-Flanders along with his team met Secretary General, IRCS in his office on 15 July 2019 to discuss the risk management and corporate governance needs of the IRCS blood services.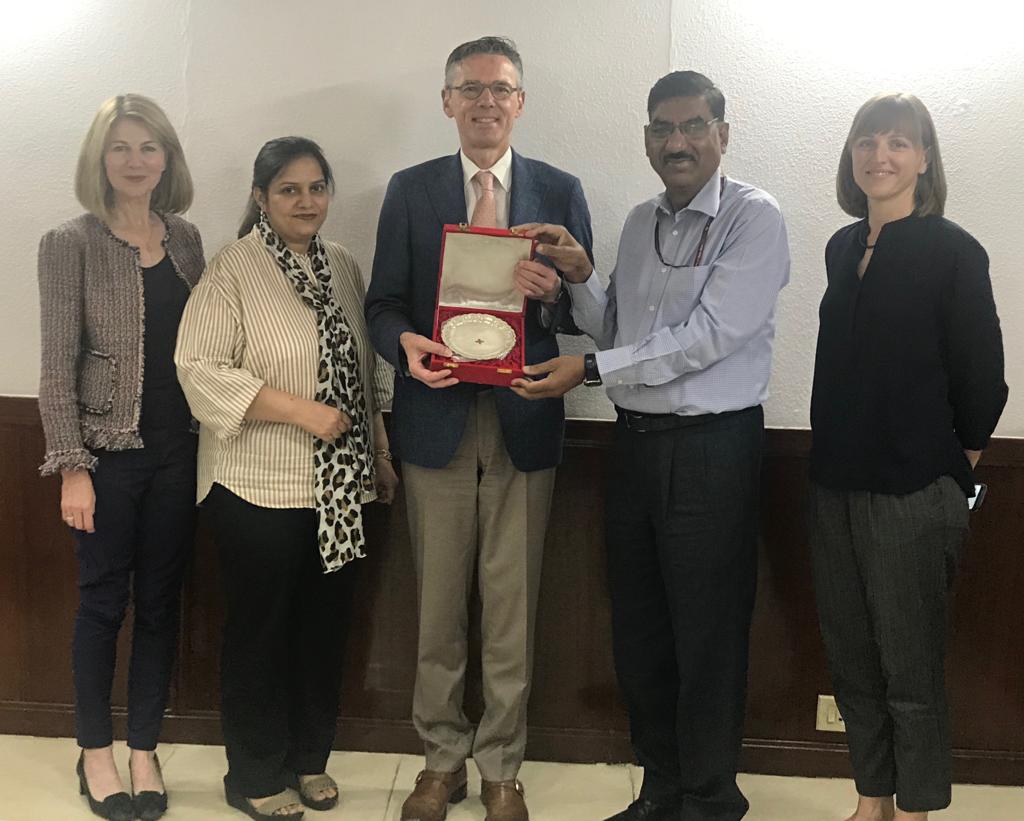 Follow us on Facebook at https://www.facebook.com/indianredcross