Click her for IRCS COVID 19 Bulletins
National Council of the St. John Ambulance (India)
28 July, 2020

President of India, Sh. Ram Nath Kovind Flagged Off Red Cross Relief Material for Flood & COVID affected People in Assam, Bihar and Uttar Pradesh on July 24th, 2020 at Rashtrapati Bhavan.

IRCS, Managing Body Meeting
25 June, 2020

Hon'ble HFM & Hon'ble Chairman IRCS, Dr Harsh Vardhan launched Indian Red Cross' 'eBloodServices' App on June 25,2020.

US Governments' Gift of 100 Ventilators Received on June 16, 2020 at IRCS NHQ

IRCS Secretary General, Sh R K Jain, IAS (Retd) accepted the first tranche of 100 ventilators from the US Ambassador to India, Mr. Kenneth I. Juster on behalf of the US Government at the National Headquarters of the Indian Red Cross. More...
Alerts - 2020
The SUPER CYCLONE 'AMPHAN'  - Affecting West Bengal and Odisha
May 19, 2020

1180 trained volunteers in Odisha are engaged in mobilizing people to 65 cyclone shelters & Early warning dissemination. The shelters are being equipped with tarpaulins, masks, firstaid kits,etc. [Glimpses]
 Red Cross volunteers in West Bengal are doing all they can to alert people who are at maximum risk. They are preparing communities living near rivers and in slums for evacuation to cyclone shelters. People are also being advised to move to local cyclone shelters. With support of local admin, preparations to minimize damage are being made [Glimpses]
World Red Cross and Red Crescent Day, 08 May, 2020 #keepclapping for volunteers
Hon'ble Minister Dr Harsh Vardhan, Chairman IRCS flag off relief material for COVID-19 from IRCS, NHQ and online addresses IRCS branches
Live from Indian Red Cross Society. A Big Thankyou to all the volunteers working very hard to keep us safe! Thankyou for empowering people for life saving information!
Glimpses of work done by Red Cross Volunteers
- Youth Fest 2020 
 Dates to be decided
- IRCS States/UTs Secretaries annual meeting
18-19 December, 2019 at IRCS NHQ [Minutes of Meeting]
- Quality Management Systems training for IRCS Blood Banks
by Global Advisory Panel (GAP) of IFRC
at Gujarat, Ahmedabad (4-8 November, 2019)
- Annual General Meeting of IRCS, Telangana State Branch held on 24, Oct, 2019 [Minutes of Meeting]
- IRCS Planning Meeting for 2020
21-23 Oct, 2019 at IRCS NHQ [Agenda]
[Summary of Discussions & Key Action Points]
- Swachhata Hi Sewa - 2019 (Indian Red Cross Society)- "Stopping single use plastic and it's management"
Gallery | Nukkad Nattak in Uttarkhand
- Meeting with States/UTs officials and representatives from railways and brigade to streamline the processes and good governance in St John Ambulance activities
October 04, 2019
-Training on Livelihood need assessment (module 1) at Puri, Odisha - Training on assessing economic security needs [Gallery]
23rd September, 2019 - 27th September, 2019
Inauguration on 23rd September, 2019
Chairperson: Governor of Odisha Prof. Ganeshi Lal. Ms CTM Suguna , the Hon Secretary, Hon Treasurer Maj Kalpana Das and Mr R K Jain, Secretary General, NHQ graced the occasion.
Professor Ganeshi Lal, the Governor of Odisha said that we can not differentiate the impact of the disaster, instead we should work to preserve the lives of people.
Secretary General mentioned the role of Red Cross during cyclones Fani, Titaly and the 1999's super cyclone. During all disasters, the Red Cross was one of the main actor to assist the affected communities. He added that in Red Cross the basic duty is to serve the society and to help those who are in need. He also emphasized the role of training exercise in process of learning and how a well planned project is pivot to it's successful implementation. Role of IRCS is to supplement the activities of the Government and to create resilience in the community.
Past Events
- World First Aid Day (Secretary General's Message)
14th September, 2019
- Three-day workshop - Red Cross Communications & Resource Mobilisation in collaboration with ICRC [Agenda] [Report on the workshop]
3-5 September 2019
Venue:
VISHWA YUWAK KENDRA
PT. Uma Shankar Dikshit Road
Teen Murti Marg, Chanakyapuri
New Delhi
Tel: 011 23013631 Fax: 011 23016604
Presentations:
- PME and PfR post 2020 in collaboration with IFRC
2-4 September, 2019
-Extraordinary meeting of the Managing Body
02 August, 2019

-National Training of Trainers workshop for SERV Master Trainers
29th July - 03 August, 2019
- 3rd Project Cycle Management workshop [Agenda]
30th July, 2019 - 02 August, 2019
Brief Report on 03 Project Cycle Management (with Result Based Approach) Workshops
(supported by – International Committee of the Red Cross)
-Prof Philippe Vandekerckhove, Global Advisory Panel (GAP) President, CEO, Belgian Red Cross-Flanders along with his team met Secretary General, IRCS in his office on 15 July 2019 to discuss the risk management and corporate governance needs of the IRCS blood services.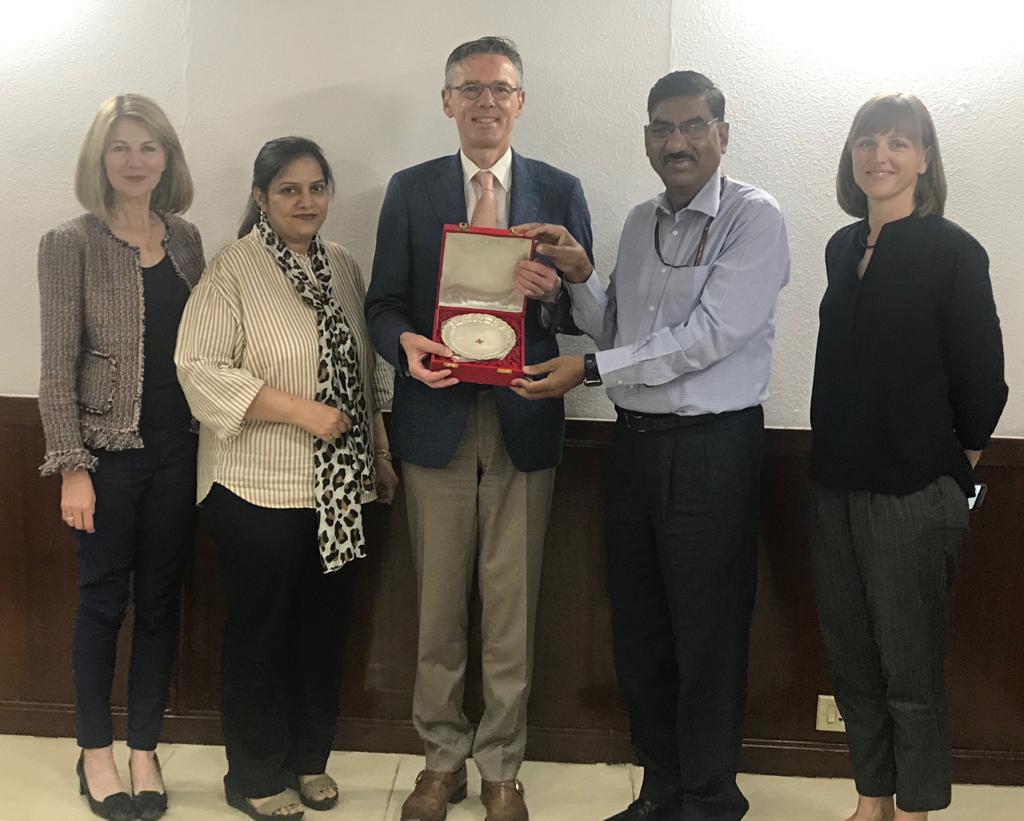 - International Yoga Day
21st June, 2019
- World Blood Donor Day (Secretary General's Message)
14th June, 2019
- 3rd Nityanand Gupta Memorial Oration cum Alumni Meet
10th June, 2019
Indian Red Cross Society is organising third  Nityanand Gupta Memorial Oration cum Alumni Meet on 10th June 2019 for Alumni of Post Graduate Diploma in Disaster Preparedness and Rehabilitation. Sh. Nityanand Gupta was student of 7th batch of PG Diploma in Disaster Preparedness and Rehabilitation Course and was on deputation to NDRF. Sh. Gupta, Second- in - command, NDRF succumbed alongwith other personnel in an IAF Helicopter crash which was on relief mission during the Uttarakhand Flash Floods 2013.
Glimpses of previous alumni meet
- Ham Radio Training for IRCS officials - 29 May, 2019 [Session by Sh. Sandeep Baruah, Scientist 'F', Vigyan Prasar] - Short Video
-RTI workshop for IRCS officials - 28 May, 2019 [Session by Sh. Umesh Chandra Joshi, Deputy Secretary (Law)]
- World Red Cross Day - 08 May, 2019
           (Secretary General's Message) | (Photos of Celebrations at IRCS State Branches)
- Brainstorming Discussion for improvement of IRCS functioning - 30 April, 2019
- IRCS State and UT branches leadership meeting -7th and 8th March, 2019
   [Minutes of Meeting]
Note:
Kindly refer to the State/UT Branch Leadership Meeting held on 7th & 8th of March 2019 in which some recommendations were made and communicated to all the branches. One such decision in the minutes on page no 3 was-:
9.    It was also decided that 16 hour training of First Aid could be spread over to any number of days but not less than 3 days.
All the State/UT branches are advised to put on hold the implementation of the recommendation of reduction of First Aid Training being imparted throughout the country from 8 days to 3 days.
Kindly issue necessary instructions to the District/Sub-district branches, if such an orders has already been issued by you. Otherwise, it may be put on hold for the present.

- National Workshop on Family News Service - 19-22 Nov, 2018 [Details]
- International Yoga Day - 21 June, 2018
- World Red Cross Day - 08 May, 2018 [Photos]
- Nation Youth Fest 2018 - 12-14 February, 2018 [Photos]