IRCS Efforts in Helping People to Say NO TO DRUGS
Life is tough and to have the ability to laugh at it is tougher, but toughest would be to enjoy it without coming in the grip of any vices. Unfortunately this maxim would not comply with a good percentage of inhabitants of Punjab and Haryana as they are ending up in drug and alcohol addiction.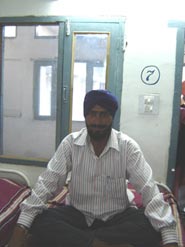 "This is my life story. A story in which, I succumbed to drugs without realizing the reflexes of it. I am a drug-addict, I have been taking a drug named poppy grass almost 4 kgs every month for the past 12 years. My earnings have frittered, my health has deteriorated, and my family has disowned me .But now I want to get rid of my habit". These were the words of Dayant Singh, a farmer, who came to seek shelter in the Drug-De-addiction Centre run by the Punjab State Red Cross at Khanpur, Ropar District, Punjab. The Centre has given him a new life by giving him a free treatment for one month encompassing of yoga therapy, medication and counselling services. He is cheerful and determined and would never try to find solace in drugs.

Such stories have become a common phenomenon in the States of Punjab and Haryana, as the number of drug and alcohol addicts are increasing day by day. Statistics are equally alarming that men, women and youth in large numbers are trying drugs and are being caught in the cobweb of addiction. The reason for drug-abuse varies, some say it's because of changing socio-economic conditions (opening up of the economy, growth of disposable income, exposure, globalization), for some it's because of easily available, for few its due to increased depression and stress and for the rest it is due to the positioning of the States, which are near to the International border.
Sushant Kumar Sharma, 26 years old, an inmate with the Red Cross Drug-De-addiction Centre was at one point of time a drug peddler. He lived heavily by sniffing smack almost daily. He shared that "Drugs of wide varieties are available like marijuana, cocaine, opium, poppy-grass, smack etc. Few who are short of money go for ether, white-fluid, spirit or over-dosage of compose and some who reaches the extreme stage end up taking a lizard, smashing it in the water and drinking its venom". On asking how he feels as soon he'll be free from drug- addiction. He says "When I joined the Centre I was very violent, it was difficult for me to live without drugs and I used to hit people. But the staff at the Centre were patient with me and helped me a lot. Now I would go to far off place and start a new life and would never take drugs in future".
The drug-abuse is being given a due attention by the Government of Punjab and the State Branch of Red Cross is also putting its best efforts in fighting against the menace, by running the Drug De-addiction Centre at Khanpur (Ropar), Patiala, Gurdaspur, Dahan Kaleran (Distt. Nawan Shahar) and Counselling Centre at Chandigarh. The addicts are given free treatment, Yoga Therapy and counselling services to develop strong will power to desist the craving for drug abuse. Family counselling services by qualified Psychiatrists are provided to the addicts to enable them to overcome their addiction.
Mr. G.S. Sindra, Project Director of Punjab Red Cross De-Addiction Centre, Khanpur, Punjab emphasised on the importance of counselling for the rehabilitation of drug addicts that "the approach required for treating them should have a mix of both deterrence and resurrection".