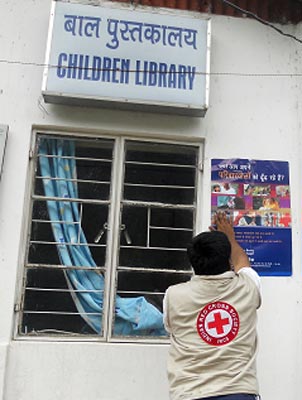 It is hard to apply a quick salve on our wounded bruise and bounce back to life immediately. It's even more difficult to scratch away the dried remains of a frozen tragedy and restart life afresh. The vestiges of the scar continue to haunt. To spread the blanket of forgetfulness over a pain that's raw and unhealed becomes impossible for a bereaved family member. Cruel, it may sound but death brings a closure. But the fear of no knowledge about a missing loved one does not even give the opportunity to mourn the loss of a near one.

"I had lost all hopes of meeting my cousin. I used to think how I shall know about his well being in this vast world. But when I received the message of my cousin's well being after eight years I now feel world is a small place. Thanks to Red Cross service,after eight years I shall sleep in peace."

Mr Nigat Jameel Warsi expressed somberly with a glint of unmistakable pain in his tired eyes.
It was in the year 2010 IRCS received a tracing request for Mr Nigat Jameel Warsi through ICRC, Islamabad. The family had been trying to contact its relative after the Gujarat riots in 2002. They wrote many letters with the hopes of receiving the news of his well being. But they neither got any response to the letters sent nor did they have any other relatives/friends living in Gujarat, who could further the investigation.
As days turned into months and months into years and all means of establishing contact had been tried, the enquirer approached the ICRC, Islamabad for help from 16th September, 2010.
They filled a Red Cross Message, for him and the journey of the message began. Pakistan Red Crescent Society sent it to Indian Red Cross. The tracing department got into action and approached the Gujarat State Branch. With the limited information such as his last known address and the occupation of the person before the Gujarat riots, began the search for Mr Nigat Jameel Warsi. Soon it was found that he no more lived in the mentioned address and had shifted to another location in Ahmedabad.

Getting the clue from his previous neighbours the determined Red Cross team was able to obtain some information about his possible location. At last he was found at a location where a postman could never have located him.
He had tears in his eyes when he received the RCM. He could not believe that in his hands he held the news of his cousin's well being, a person he had lost all hopes of hearing from. When the tracing person informed him that his cousin across the border is also equally eager to hear from him, he immediately wrote the response RCM. Red Cross facilitated a conversation between the two on telephone and they were overjoyed to be reunited after a long separation of eight years.